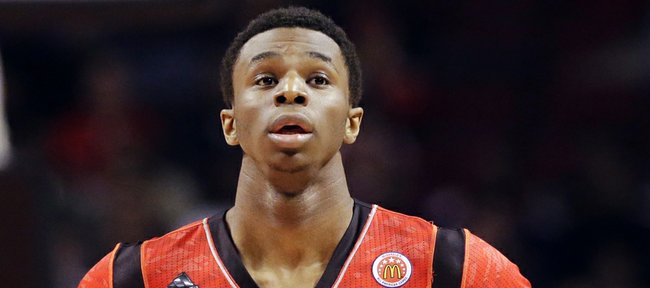 A voice of reason rises above the discordant sounds of self-annointed expertise regarding the recruitment of an 18-year-old basketball player. And that wise voice belongs to the teenager himself.
"Anyone who says they know where I'm going is a liar," Andrew Wiggins famously said. "I don't know where I'm going, so they can't know where I'm going."
Bingo!
But that won't stop many who state pure guesses with absolute certainty. He's down to four choices, so four self-anointed experts each could make a different guess, and after Wiggins picks a school, the guy who's right will be the only one who returns the call of the radio producer looking for a guest to discuss the decision. Nobody will remember the other three guys' guesses, and the one who's right will brag about it until he guesses wrong on a future coveted recruit.
If the insider guessing Florida State happens to guess right, he will explain that he knew all along Wiggins was heading to Tallahassee because the family connections to the school made it impossible for him to choose anyplace else. His father, Mitchell Wiggins, was drafted in the first round out of Florida State and played six NBA seasons. His mother, Marita Payne-Wiggins, ran for a pair of Canadian relay teams that won silver medals in the 1984 Olympic Games in Los Angeles.
Should the expert guessing Kentucky while pretending to know guesses correctly, he'll cite Wiggins' desire to be part of the greatest recruiting class of all time as the factor that swayed him.
North Carolina? What better place to be the next Michael Jordan, playing for a coach who was an assistant at Carolina when Jordan played three seasons there.
Why would Wiggins select Kansas? Why not?
If he's the sort of competitor who feeds off a big challenge, maybe he'll like the idea of being one of two McDonald's All-Americans from the Class of 2013 winning a national title sought by a Kentucky team with six hamburger All-Stars.
Wiggins hung out with KU signee Wayne Selden during the McDonald's All-Star Game week and just might like the idea of running the opposite wing from him on the fast lane to the Final Four in Cowboys Stadium.
With Naadir Tharpe, combo guard Conner Frankamp and pure point Frank Mason sharing point-guard duties, Selden and Wiggins manning the wings, polished Perry Ellis and shot-blocker Joel Embiid down low, and forwards Jamari Traylor, Brannen Greene and Andrew White III adding depth, this team could wage some serious battles in practice, where daily improvement would be required of the players just to keep up.
Wiggins had scheduled visits with Roy Williams today, Bill Self on Tuesday and Leonard Hamilton on Wednesday before deciding to cancel all of those visits, according to CBSsports.com's Jeff Goodman. Wiggins already has met with John Calipari.
Regardless of what school Wiggins chooses, he's expected to be the No. 1 selection in the 2014 NBA Draft. He can't make a wrong choice.