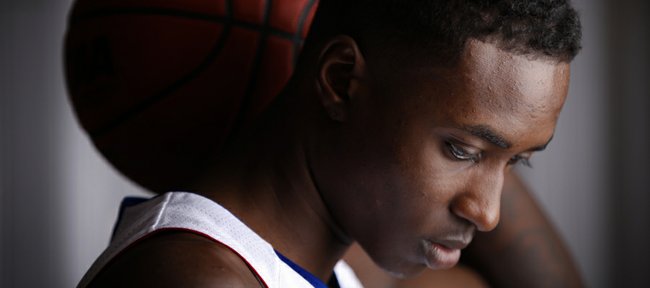 Kansas University freshman guard Rio Adams will transfer from KU at the end of the school year, KU coach Bill Self said Monday.
Self met with Adams Monday at Adams' request. The Seattle native had asked for and received his release from his scholarship agreement last week but had second thoughts and set up a second meeting with Self.
"We met again and talked about it. We both came to the same conclusion: that it would be in his best interest to pursue other options, get off to a fresh start and impact another program," Self told the Journal-World.
Adams has not yet said where he will be going to school next year.
Self released a statement through KU on the matter just before 2 p.m.
"Anrio and I met today and discussed his feelings and how they have apparently changed. We discussed everything and talked openly," Self said. "Together we've come to the conclusion that it is in his best interest to pursue other opportunities and go to a place where he has the chance to really impact a program and, preferably, a school that is closer to home. This will allow him to redshirt and have another year to work toward graduating."
Adams confirmed his decision to transfer on Twitter through his "Anrioadams" account.
"Nothin but positives from here on out ... This will only make me stronger," he tweeted.