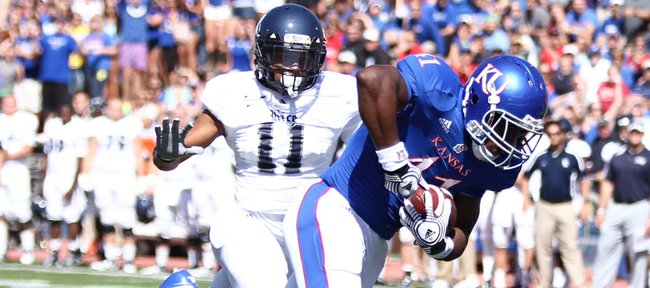 Kansas University's football team unwittingly was responsible for among the most stunning statistics in the nation in 2012, and it was no less shocking for the guys in the huddle. Zero touchdown passes were thrown to wide receivers in 12 games.
"That's crazy," tight end Jimmay Mundine said. "That's a shocking fact. I mean, I'm trying to get 10 myself this year."
Lofty goal for a tight end who plays on a team that had just seven touchdown passes last season, three to tight ends and four to running backs. Mundine and running back Tony Pierson shared the team lead with two touchdown receptions.
Mundine does have a great deal going for him in pursuing the goal of 10 TD receptions in his junior season. He's fast for a 6-foot-2, 242-pound block of muscle. He runs good routes, has sure hands and a sharp mind. Plus, he said even before spring practice started he already had developed strong chemistry with quarterback Jake Heaps.
Mundine said they met every Wednesday for an hour during the offseason to discuss subtleties of the playbook and to watch film together. Developing such chemistry is vital, Mundine said, because both players must read the defense in the same way in order to remain a step ahead.
"He's expecting me to be in a certain spot based on what the defense is doing, and I'm expecting the ball to be there when I turn around," Mundine said.
Asked to give an example, Mundine used a 10-yard in-cut with him starting on the right side of the line. He talked about the defenders in football parlance, using Mike for middle linebacker, Sam for strong-side (the side the tight end lines up on) linebacker and Will for weak-side linebacker.
"The Mike is in the middle of the field. He's going to be right inside of me, and the Sam is going to be right outside of me," Mundine said. "So I push to the Sam and widen my reach a little bit, so if that Mike comes with me, the second gap (between the Mike and the Will) is wider now, I go across, but if he stays in the middle as I'm going out, then I almost run like a curl route, and he's going to put it in there between the Mike and the Sam. So if the Mike attacks me, then I'm going to go behind him and across, but if he just sits there, I'm going to turn and sit, and he'll hit me right there."
Heaps and Mundine will read the same thing and know what the other will do. As Mundine said, Heaps will know where Mundine is going next, and Mundine will know where the ball is going to arrive.
At other times, the purpose of Mundine's route will be to create space for another receiver in a specific area of the field.
"Tight ends work the middle of the field a lot, so if the middle of the field is open, you've got this, but if it's closed, you've got this," Mundine said. "And so you kind of have a lot of option routes. If the defense is doing this, I get to sit down here, and if the defense is doing that, then I have to keep going. It all intertwines because if the middle of the field is closed, and I keep going on my route, even though I'm not getting the ball, that safety went with me, and that's the area we're trying to get cleared out for the guy who's coming into that area. Obviously, if the middle of the field is open, I'm going to take it, and I'm probably going to get the ball."
At the outset of spring, Kansas coach Charlie Weis praised Mundine's hard work in the offseason. Tight-ends coach Jeff Blasko said Mundine became much stronger during the winter workouts, which should help him to become more equipped to block defensive ends, an area that still needs improvement.
"He's by far in the best shape he's been in since I've been here," Blasko said. "We're excited about his development. Very good hands, and he's pretty sharp. You can put him in a bunch of different spots, and he's mentally capable of doing it."
A native of Denison, Texas, who spent the 2010 season as a red-shirt, Mundine averaged 13.1 yards on his 14 receptions last season.
He was recruited by Mark Mangino, then by Turner Gill after Mangino's forced resignation. Mundine said after his mother met Gill, she told him he was going to Kansas. The biggest difference between the coaching styles of Gill and Weis?
"Maybe the intensity," Mundine said. "Now there is more a sense of urgency of get things done now, not waiting."
As a red-shirt freshman in 2011, Mundine followed the lead of quarterback Jordan Webb. Dayne Crist and Michael Cummings were the starting quarterbacks last season.
Mundine talked more about intangibles than specific skills when sharing why he's looking forward to following the lead of Heaps.
"I think Jake's biggest thing is consistency and confidence," Mundine said. "He knows what he's supposed to be doing, and he knows he can do it, so that takes a lot of pressure off of him. He knows, 'I can get this done.' He believes in himself."
Having a tight end primed for a breakout season never hurts a quarterback's confidence, either.