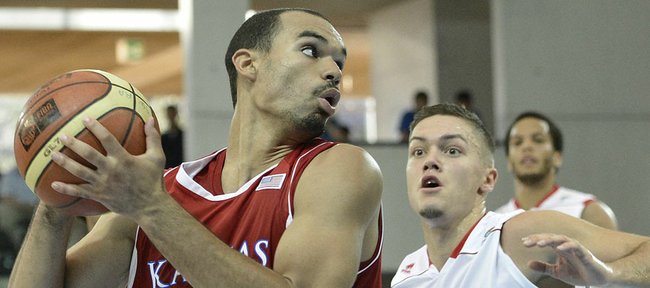 Every time a headline informs that Kansas University missed out on a highly rated basketball recruit, many local voices wonder, "Why can't Bill Self and his staff get anybody anymore?"
It's human nature to remember losses longer than victories, but a close inspection of the numbers reveals KU's scoring rate for elite recruits has remained the same for the past quarter-century. That encompasses the reigns of Roy Williams, who spent 15 years on the job, and Bill Self, entering his 10th season heading the region's dominant basketball program.
No measure perfectly captures a coach's success in landing top recruits, but getting players who earn one of the 24 annual invitations to participate in the McDonald's All-American game ranks as the best.
In his 15 recruiting seasons at Kansas, Williams landed 15 McDonald's All-Americans who played for the Jayhawks: Darin Hancock, Calvin Rayford, Jacque Vaughn, Raef LaFrentz, Paul Pierce, Ryan Robertson, Lester Earl, Kenny Gregory, Eric Chenowith, Jeff Boschee, Nick Collison, Aaron Miles, Wayne Simien, J.R. Giddens and David Padgett (Chris Davis, an honoree in 1992, signed with KU, but failed to qualify).
In nine completed recruiting seasons at Kansas, Self has landed nine McDonald's All-Americans: Mario Chalmers, Micah Downs, Julian Wright, Darrell Arthur, Sherron Collins, Cole Aldrich, Xavier Henry, Josh Selby and Perry Ellis.
So for both coaches, the ratio works out to exactly one hamburger All-American per season. Why then when Kansas misses on a recruit do the distraught voices seem louder than in the past? Easy. Recruiting is covered more intensely now than ever. Way back when, except in extreme cases, landing a recruit had a much better chance of drawing a headline than missing out on one. Now, both hits and misses make big news.
KU made it all the way to the NCAA title game last April without a McDonald's All-American on the roster, but tracking the totals does make for an interesting way to gauge how realistic some are in reacting to recruiting news.
"Frustrated," captures how many might feel about the current KU recruiting season, but if Self stopped right now — which he won't, of course — chances are high one of his two committed recruits will earn McDonald's All-American honors. Rivals.com ranks Brannen Greene, a 6-foot-7 forward from Forsyth, at No. 22 in the Class of 2013, and has Conner Frankamp, a 6-foot guard from Wichita, ranked 27th.
Yet, many probably won't consider this year a success unless Self lands one of the nation's top two recruits. Julius Randle, a 6-9 forward from Plano, Texas, teamed in high school with KU freshman Zach Peters. Jabari Parker, a 6-8 forward from Chicago Public League powerhouse Simien High, also includes Kansas on his long list.