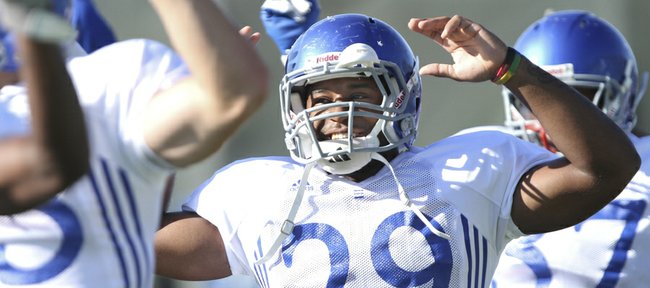 When the Kansas University coaching staff first started game-planning for this week's Northern Illinois match-up, they did so with the knowledge that they would be getting one of their top offensive weapons back in suspended running back James Sims.
As it turns out, they're getting something even better.
"James has really transformed the way he plays," said junior offensive lineman Gavin Howard. "He's a hundred times better than he was last year. I'm really excited for him to finally get this opportunity. He's been waiting a long time, throughout the whole spring and fall, knowing he wasn't gonna play the first three games. He's really excited to go and I think he'll play very well."
While Sims' return from a three-game suspension for an offseason DUI arrest has been one of the most talked about comebacks surrounding the program in some time, KU coach Charlie Weis said it was not a given that Sims would be thrown back into his role as the Jayhawks' featured back. After all, while Sims was sitting in the stands watching his teammates play the first three games of the season, sophomore Tony Pierson and junior-college transfer Taylor Cox took good care of the position, rushing for 526 yards and four touchdowns and averaging 5.8 yards per carry.
"He's seen those other two guys play pretty well, and he knows, for him to get snaps, he's gonna have to earn 'em," Weis said of Sims. "A lot of times, when a player leaves, it's, 'Well, they need me, they need me.' Well, he's sitting in the stands those games watching those guys run the ball pretty well then he's starting to question, 'I wonder if they need me.'"
Whether the Jayhawks need the team's leading rusher in both 2010 and 2011 or not is a matter of opinion, but Weis has not been shy about expressing his joy in having Sims as an option.
"I don't know if there's another Big 12 team that could sit there and say they've got three better than those three," said Weis on his weekly radio show of Cox, Pierson and Sims.
Although Sims has not played a snap during the first three weeks, his absence has not been a case of a forgotten player wasting away on the depth chart. Instead, Sims has worked with the scout team every day, fighting hard to give the KU defense a workout while also keeping himself in the best possible shape. That's true on the field and in the film room.
"The only thing that we didn't do is play him," running backs coach Reggie Mitchell said. "He was always in the meetings, he knew what we were doing from a gameplan standpoint, week to week."
Because of that, Weis believes Sims can and will be an asset for the KU offense whenever he gets into the game on Saturday.
"I expect him ready to go," Weis said. "I really do. I don't expect there to be any rust."
As for Sims' motivation, that's not a concern either.
"I think he's very hungry," Weis said. "That excites me."
Carnes returns, too
Sims is not the only Jayhawk expected back from suspension Saturday. Long snapper, Justin Carnes, who also was suspended three games to start the season, was listed on the latest depth chart as the starting snapper.
Before talking about the impact the junior might have, Weis praised one of the guys who filled in for him.
"I think Reilly Jeffers did above and beyond the call of duty," Weis said. "Here's a guy that never snapped in a high school game and this kid snaps for the first three games of the year. Not every snap was perfect, but our punting average was pretty good."
Because of that, Carnes, like Sims, is going to have to prove he deserves his spot back.
"We're not gonna just hand the job to Carnes," Weis said. "I think Carnes is probably better than Reilly, but he's gonna have to show in practice that he is or else we'll keep snapping Reilly."
Pick on pace; Smith questionable
Injured wide receiver Kale Pick appears to be a lot closer to playing, according to Weis' assessment of the senior from Dodge City.
"I'd be very surprised if Kale didn't play," he said.
Weis said senior safety Lubbock Smith, who practiced Tuesday, remained a question mark for Saturday.
Spencer out for season
As for reserve offensive lineman Riley Spencer, Weis said the 6-foot-6, 305-pound junior from Hesston was finished for the season because of a knee injury that Spencer and the coaching staff decided would be better addressed now than after the season.
"We talked (Monday) and we decided to go ahead and have Riley's knee fixed," Weis said.
The recovery time is expected to be about six months, which, by taking care of it now, will give Spencer a chance to return by the time spring drills start in 2013.
Depth chart changes
In all, KU unveiled 10 significant depth chart changes on Tuesday, some based off of performance and others off of injury.
Included among the most notable changes are: junior Randall Dent starting at right guard, with Aslam Sterling backing him up; sophomore Andrew Turzilli taking over first-team reps at Z receiver for D.J. Beshears; junior Kevin Young starting at nose tackle, taking the place of junior Jordan Tavai, who is listed as the starting defensive tackle; Dexter Linton sliding into the first-team strong safety spot ahead the injured Smith; and freshman Tre' Parmalee taking over kickoff return duties from Beshears.
"If you have other people that can do that job, see if somebody else can do it better," Weis said. "If you just settle in and say, 'He's the guy,' then, as a coach, you're not doing your job. Part of our job is to find answers, no matter what they are."
Road woes
Saturday's 2:30 p.m. kickoff at Huskie Stadium in DeKalb, Ill., will represent the Jayhawks' first opportunity to snap a 13-game road losing streak that dates back to September of 2009.
Always one to use anything he can to motivate his players, Weis said the skid would be a point of emphasis during the next few days.
"They will hear it several times this week," he said. "That'll be one of my main messages. It'll be my vintage New Jersey sarcasm."
By Tuesday, several players said they had heard only a light mention of the streak. When told of Weis' plans to hammer the point home, they could only muster one response.
"We'll look forward to it," quarterback Dayne Crist said.