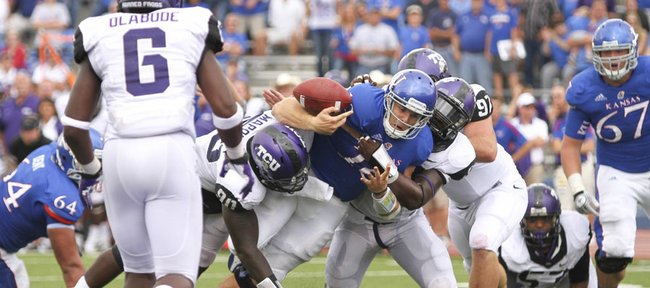 Videos
KU coach Charlie Weis postgame: TCU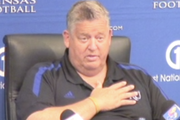 Video of Kansas coach Charlie Weis' postgame press conference following the Jayhawks' 20-6 loss to TCU on Sept. 15, 2012.
Podcast episode
Kansas coach Charlie Weis talks to reporters following the Jayhawks' 20-6 loss to TCU on Sept. 15, 2012.
When quarterback Dayne Crist fumbled into the end zone from the three-yard line on Kansas University's final offensive play of Saturday's 20-6 loss to TCU, the turnover put an end to KU's chances, and the game was all but over.
But with 1:14 to play and TCU quarterback Casey Pachall kneeling out the clock, KU coach Charlie Weis called timeout. As officials signaled to stop the clock, every player on the KU sideline hurried to huddle around Weis for one final message.
It had nothing to do with the next play.
"It was a teaching moment about turning the corner," Weis said. "That was not to prolong the game. That was to let 'em know, 'Hey, everyone came in here today thinking you were gonna get the crap kicked out you. That didn't turn out that way, did it?'"
Not by a long shot, as the Kansas defense, in front of a crowd of 43,867, forced four TCU turnovers and played one of its best all-around games in years.
Senior safety Bradley McDougald caused two fumbles, and senior defensive end Toben Opurum forced one and recovered another as the new-look KU defense improved its turnover total to 12 for the season and took points away from the Frogs in the process. Two of KU's takeaways came on TCU's first two drives, with one coming off of a bad snap at the KU nine-yard line and the other at the KU 23, where Opurum pounced on a ball that came loose after a McDougald sack.
"A great defense is an offense's best friend," Crist said. "Our defense played great today."
The offense did not. Despite tallying 380 yards, including 303 in the passing game, the Jayhawks managed just three points off of those early turnovers and never really got going. The 3-0 lead did not last long, as TCU intercepted Crist on the first play after its second turnover and marched 52 yards in four plays to take a 7-3 lead on an eight-yard TD pass from Pachall to Brandon Carter.
After cutting the Frogs' lead to 7-6 with a 10-play drive that reached the TCU eight-yard line but stalled because of a holding penalty, KU watched TCU answer with an eight-play drive of its own to set the halftime margin at 10-6 in favor of the Frogs.
KU (1-2 overall, 0-1 Big 12) received the opening kickoff of the second half but quickly went three-and-out and struggled throughout the rest of the day to convert on third down and in the red zone.
This time, it wasn't all Crist. His receivers dropped balls and misread coverages, and the running game, which had been great all year and was solid in the first half, finished with 77 yards on 26 attempts.
That inspired Weis to go to the air more often in the second half.
"To have a chance at winning (against TCU), you know you're gonna have to throw the ball," Weis said. "And we just have to do it better."
While the Jayhawks struggled with three-and-outs and missed opportunities, the Frogs continued to move up and down the field. Each time, however, the Kansas defense stiffened the closer the Frogs got to the end zone.
TCU's second touchdown, which came with 5:12 to play in the third quarter, came on a third-and-six. The Frogs' final score, a 27-yard field goal on their next possession, came after Opurum (six tackles, one pass break-up, one QB hurry) batted down a third-down screen pass. In addition, TCU's other fumbles came inside KU's 10-yard line, first with Pachall heading into the end zone and, later, when tailback Matthew Tucker lost the ball at the KU seven.
"The old bend-but-don't-break mentality … you can gain a lot of confidence (from that)," Weis said. "Because now, every time a team gets down there, they're expecting to make a play on defense to turn the ball over."
Opurum said the defense's big day was a result of hard work and pride from each player.
"Really, I think it just speaks to the character of our defense," he said. "We see what everyone says. We see that people don't respect us, and people pick us to lose 44-21 and everything, but we've put in way too much to be losing close games like this. This isn't the Kansas of last year or the year before. We've gotta be able to finish games. We can only finish close (so) many times. We've gotta turn the corner at some point."
The way Weis saw it, that may have happened Saturday. Despite entering its Big 12 opener as a 26-point underdog and on the heels of a stunning home loss to Rice, Weis' squad competed for 60 minutes with one of the top teams in the league.
"A lot of people, me included, wanted to see what Kansas was gonna do in a game like this," Weis said. "And I think you saw how hard we played for the whole game. I actually feel worse about this loss than I do about last week's loss because you could see it meant so much. They want to take that step forward, they don't want to take a step back. They lost the game. I wouldn't say they took a step back."
Added defensive end Josh Williams: "We didn't fold. We didn't quit. We're making steps forward. I wouldn't say it's satisfaction, because we didn't win the game."
Call it progress. Call it a step in the right direction. Call it impressive, even. But don't call it a moral victory.
"That doesn't exist," Weis said. "There's no such thing. There's nothing ever good about a loss."