Videos
KU coach Charlie Weis postgame: TCU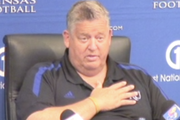 Video of Kansas coach Charlie Weis' postgame press conference following the Jayhawks' 20-6 loss to TCU on Sept. 15, 2012.
Podcast episode
Kansas coach Charlie Weis talks to reporters following the Jayhawks' 20-6 loss to TCU on Sept. 15, 2012.
TCU's football players and coaches, who competed in the Mountain West Conference the past seven seasons, have heard a lot about life in the Big 12.
"Everybody said when you go to the Big 12, you've got to play your best ballgame every day to win games. I don't know if we did that," 12th-year coach Gary Patterson said after the Horned Frogs' 20-6 victory over Kansas University on Saturday in Memorial Stadium.
It marked the Frogs' debut performance in their new league.
"I did believe we did enough to score points to get where we needed to get to. We've got to move forward, get a lot better," Patterson added after a game in which the Frogs outgained KU, 487 yards to 380, but suffered four lost fumbles — three in the red zone.
Patterson, whose players had a 6:45 a.m. wake-up call for the 11 a.m. game, sensed his team was sleepy in pre-game warm-ups.
"I warned them (Frogs) early in the week and warned them before this ballgame ... I thought our warm-up was very bad as far as emotion," Patterson said. "One of the things I told them (is), there's not anything given. You've got to play every week, especially on the road.
"For us, we're really glad to get our first Big 12 victory. You can't get to two without one. We know we didn't play well today. Give KU a lot of credit. They caused some turnovers and moved the football."
Patterson said it took awhile for the Frogs to get used to the Jayhawk offense. He said KU's Charlie Weis used completely different sets than from the first two games of the season.
"They changed their whole game plan. They didn't run one route progression they ran in the last two ballgames," Patterson said. "There were things that happened we got changed at halftime. We had to make adjustments.
"Give them credit. No. 3 is a good player," he added of sophomore running back Tony Pierson, who had nine carries for 35 yards and six receptions for 99 yards.
While a bit sloppy, the victory proved satisfying for Patterson, a 1983 graduate of Kansas State who was born in Larned and grew up in Rozel.
"I've always told people every time I cross the Kansas line I always feel a lot safer. I'm about 30 minutes away from somebody I can call and get me some help," Patterson said. "Now if we keep winning games in the state of Kansas, I'm not sure that's going to be true. I was the guy everybody liked because I came from Kansas but didn't play Kansas or Kansas State.
"I asked my friend that is a KU graduate ... I said, 'You think if we win more than we lose ... in the next 10 years do you think I'll be hated in the state of Kansas instead of liked?' Today we'll take the win."
There were probably 3,000 Horned Frogs fans in attendance, several from Rose Hill to cheer on brothers Blaize and Brady Foltz, a pair of offensive guards.
TCU returns to nonconference play the next two weeks with games against Virginia and SMU.
"It wasn't tougher. We left a lot of points on the board, and that's completely on us," said junior quarterback Casey Pachall, who completed 24 of 30 passes for 335 yards.
"It wasn't an environment we expected anything less of. The total execution is what we had problems with. We came out a little flat. We were shooting ourselves in the foot. We were stopping ourselves. It's something we need to work on."