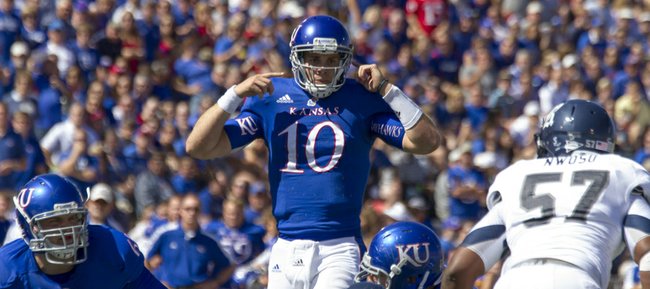 KU-Rice
Videos
KU coach Charlie Weis postgame: Rice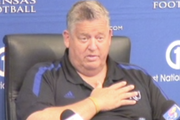 KU coach Charlie Weis' postgame comments following his team's 25-24 loss to Rice on Sept. 8, 2012.
Podcast episode
KU coach Charlie Weis talks after his team's 25-24 loss to Rice on Sept. 8, 2012.
The quarterback Midas touch of Charlie Weis, blended with his reunion with the five-star quarterback who spent four years at Notre Dame, made for such a natural marketing campaign to put Kansas University football back under bright lights.
Weis knows quarterbacks. Crist knows Weis' offense. It sounded like as good a fit and as natural a recipe for success, as peanut butter and chocolate.
Two games into Crist's one season as quarterback of KU's rebuilding football program, the Weis/Crist air attack hasn't gotten off the ground.
The failure of the passing game was one of many reasons Rice upset Kansas, 25-24, but that's the point. The passing game shaped up as the one area that wasn't going to be a cause for concern.
Two games into the season, Crist has a 51.6 completion percentage, an average gain of 4.9 yards per pass and has thrown two touchdown passes and three interceptions against competition that doesn't compare to what he will face in the Big 12, starting Saturday when heavily favored TCU makes a visit to Lawrence.
Crist's final throw set the table for the game-winning field goal with no time left on the clock.
On third-and-8 from the KU 27, Crist heaved a rainbow 26 yards. It was intended for Chris Omigie on the left sideline and caught by Rice's Bryce Callahan. The air came out of Memorial Stadium. Chris Boswell, one of the best field-goal kickers on the planet, readied his mind for a game-winner that would come from 45 yards after the KU defense couldn't keep the Owls from getting into Boswell's extensive range.
Afterward, Weis expressed disappointment with all phases of the game and pointed out he would hold himself accountable and refused to play the public blame game.
"I'm not going to isolate any player or any position or any coach on the team ever," Weis said. "I'll never do it."
Weis planned to wake up at 5 this morning to watch the film, and among the questions he'll ask himself is what he could have done better. He might even challenge his play-calling during one stretch.
So far, running the football easily qualifies as what the Jayhawks do best, and Rice had difficulty stopping stylistically different backs Tony Pierson and Taylor Cox. With KU leading 24-13 early in the third quarter, Cox moved the chains 22 yards on three consecutive rushes to make it first-and-10 from the Rice 28. The running game wasn't broken, so this was no time to try to fix the passing game. The next five plays: incompletion, incompletion nullified by holding penalty, five-yard loss on a sack, seven-yard completion, a missed 53-yard field goal on fourth-and-18.
Then again, on the final drive, Kansas ran the ball the first two plays and faced a third-and-8.
Weis didn't question whether Crist should have made the final throw, saying he didn't have a problem taking a shot into one-on-one coverage. It was far from Crist's only misfire. He once had Kale Pick wide-open on the right side of the end zone, a situation that seemed to call for a high ball toward the pylon. He missed in the dirt. Under some heat, Crist overthrew Daymond Patterson open on the left side of the end zone. Crist didn't look elusive in the pocket or particularly quick with his release.
In his defense, other than tight ends Jimmay Mundine and Mike Ragone, who consistently got open for short passes, Crist didn't have a wide array of free targets to hit, but he did have decent protection most of the afternoon.
Patterson's the team's best receiver, but can only bring his maximum contribution to the team if Weis and Crist can figure out a way to get him the ball in space. It's not happening enough yet.
After a so-so effort in the Week 1 victory against South Dakota State, Crist said he was disappointed in his play. After the Week 2 upset loss?
"Still disappointed," he said. "I didn't make enough plays to win, and at the end of the day that's the most valued trait in a quarterback, is making enough plays to win, and we didn't do that today, so naturally I'm upset."
Crist answered questions about the first and last passes of his day, both interceptions.
The first one, on KU's second play from scrimmage, came on a trick play. The ball was snapped to running back Tony Pierson, who handed it off to Daymond Patterson, who pitched it to Crist, who was hit as he was delivering the ball, throwing the pass way off course.
"There was some pressure," Crist said. "I thought I could get it off. I didn't really see the guy coming."
His final throw gave Rice the ball with 3:37 left, trailing by two points.
"Initial read wasn't there, tried to give our guy a chance to move the chains and ultimately run out the clock," he said. "I didn't get a chance to see too much. We'll have a look at it on film and see what went wrong."
Watching it won't be easy, but very little about playing college football fits that description anyway, and facing TCU certainly doesn't.