Defense was on display as Kansas University's volleyball team defeated Arizona State, 20-25, 25-19, 26-24, 25-23, in the Jayhawk Invitational on Friday night at Horejsi Center.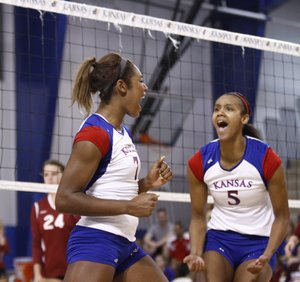 Earlier Friday, KU defeated College of Charleston, 25-15, 25-18, 25-22.
Kansas (8-1) tied a season-high with 16 blocks against ASU and was led by senior middle blocker Tayler Tolefree, who tied a Horejsi Center record with four solo blocks. Tolefree also added six block assists. Redshirt junior middle blocker Caroline Jarmoc and sophomore outside hitter Chelsea Albers also stepped up for six blocks apiece as the Jayhawks' nearly doubled up the Sun Devils in blocks, 16-8 1/2.
Junior libero Brianne Riley also impressed defensively with 23 digs on the night, while fellow junior Erin McNorton notched her first career double-double with 49 assists and 11 digs.
ASU (6-2) was led by freshman outside hitter Macey Gardner and senior outside hitter Erica Wilson with 19 kills each, an unsurprising output from a Pac-12 opponent.
"It's helpful," KU coach Ray Bechard said against his team's success against the Pac-12 foe. "Anytime you have big-time conferences going against each other, it's big for us. The Pac-12 is a big volleyball conference and the Big 12 is too. So you make some comparisons and the Jayhawks held up their end tonight."
Arizona State's only deficit in the first set was at 1-0 with the Sun Devils building a four-point lead on six different occasions and a five-point lead twice on their way to a 25-20 opening-set win. Gardner led the way for the Sun Devils with seven kills. For KU, Jarmoc and sophomore outside hitter Sara McClinton led the team with four kills each.
The second set was filled with runs by both teams. Early in the set, Arizona State went on a 5-1 run to grab the early 9-6 lead. KU responded with a 7-3 run to take a 13-12 lead. The Sun Devils then answered by going on a 4-1 run to take a 17-14 advantage. The Jayhawks battled back, winning eleven of the final 13 points of the set, en route to the 25-19 win. McClinton and Tolefree paced the offense with four kills each.
Behind 11 kills and five blocks from Jarmoc, KU defeated College of Charleston.
Kansas outblocked the Cougars 10-2 and outhit them .316 to .150 in the three-set sweep. KU's 10 blocks, three solos and 14 block assists marked the fourth time this season the Jayhawks have recorded 10 total blocks — and the third time in four outings.
The Jayhawks will entertain Wyoming at 6:30 tonight.