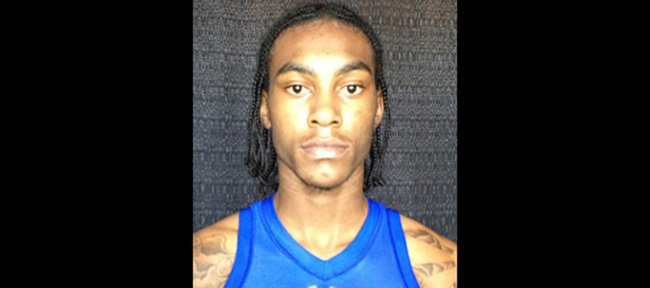 Anthony "Cat" Barber told Rivals.com he had a great time on his weekend recruiting trip to Kansas University.
In fact, Barber, a 6-foot-2 senior guard from Hampton (Va.) High, rated his visit as a 10 on a scale of 1-10.
Barber, who is ranked No. 9 nationally by Rivals.com, did not orally commit to KU after his visit. He will visit Louisville next weekend and Alabama on Sept. 15. A visit to North Carolina State is also possible.
KU target Marcus Lee also will visit Louisville this upcoming weekend. Lee, a 6-9 power forward from Deer Valley High in Antioch, Calif., is ranked No. 15 nationally. Louisville and KU are also recruiting point guards Demetrius Jackson and Chris Jones. Jackson, 6-1 senior from Marian High in Mishawaka, Ind., is ranked No. 27 by Rivals.com. Jones, 5-10 sophomore, is a former Tennessee commit who attends Northwest Florida State College.
Collison in Kenya: Former KU forward Nick Collison of the NBA's Oklahoma City Thunder is in Kenya as part of a UNICEF field trip. He is filing a travelogue for NBA.com. Collison previously attended Basketball without Borders in 2008 in Johannesburg, South Africa.
His current travels have taken him to Kakuma and a refugee camp that is home of over 100,000 individuals displaced by conflict or famine.
"Malnutrition, chronic disease, and a lack of water in the desert climate are some of the major issues that the camp deals with on a daily basis," Collison wrote. "Each refugee is provided with water, food rations of 2,100 calories a day and free health care. In severe cases where they are unable to treat a person they can send up to six people a month to a hospital in Nairobi. They also provide education for the children, but it is difficult with limited resources and class sizes that average 114 and can reach as high as 180 students in a small classroom.
"We saw a living space where new refugees stay until they are able to create more permanent housing. A group or family of three to five people live in a space roughly 8x8 feet and sleep on blankets on the floor. Overall, this was an eye-opening experience. I am thankful to both the NBA and UNICEF for bringing me here to meet the wonderful people who are helping refugees from across the continent find a more peaceful life. I always knew UNICEF did such great work, but being able to see first hand how they impact and save children's lives was an incredible experience.  I encourage you all to take just a moment out of your day and learn how you can make a difference in a child's life by visiting Unicefusa.org. I promise it will be some of the most important and rewarding time you spend today.
Collison's blog is available at http://allball.blogs.nba.com/2012/08/30/nick-collison-details-trip-to-kenya-with-dikembe-mutombo-unicef/
Recruiting: Jermaine Lawrence, a 6-9 senior power forward from Pope John XXIII High in Sparta, N.J., who has KU on his list, is seriously considering UNLV.
CBSsports.com's Jon Rothstein on Sunday tweeted: "Hearing UNLV picking up a lot of steam in the Jermaine Lawrence sweepstakes. Rebels have made Sin City a destination for top tier talent."
Lawrence is ranked No. 18 by Rivals.com.