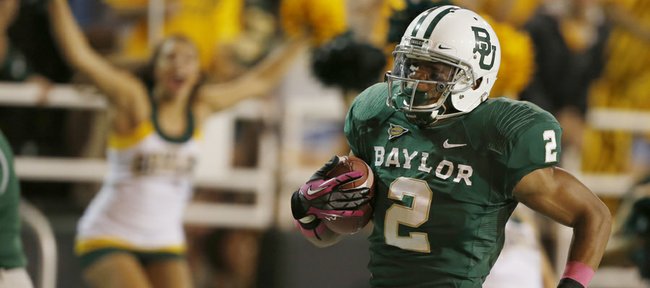 Getting ready for another record-setting, scoreboard-rocking Big 12 offense has become an every-week sort of thing for the Kansas University football program.
This week, as the Jayhawks (1-7 overall, 0-5 Big 12) prepare for a road contest at Baylor (3-4, 0-4), the song remains the same.
The Bears rank third in the country in total offense (569 yards per game), seventh nationally in scoring offense (44 points per game) and feature a quarterback, Nick Florence, whose 414.14 yards of total offense per outing put him in front of every player in college football.
Although the somewhat-experienced Florence — he started nine games in 2009 and was a backup in 2010 and 2011 — deserves credit for picking up right where former Baylor great Robert Griffin III left off, both KU coach Charlie Weis and Baylor coach Art Briles point to senior wide receiver Terrance Williams as the most dangerous weapon on this Bears' team.
Williams, a 6-foot-2, 205-pound standout from Dallas, leads the nation with an average of 172 receiving yards per game and has caught 60 passes for 1,203 yards and nine touchdowns.
"He's been exceptional," Briles said. "You know, I think he's proven himself to be one of the best in America, not just by his production on the field but by how he prepares and how he approaches each game and each play."
In terms of preparing for Williams, Weis said the mere thought of trying to slow him down was a little daunting.
"Not only is he as good as I've seen," Weis began, "but you got a bunch of other guys around him that you can't just say, 'Let's just put two (defenders) on him every play.' He is a dynamic player. I don't think anybody has had a good answer of how to take him away because, if you worry about him, you have a whole bunch of other weapons to worry about."
Throughout his years as a high school coach, then at the college level with Houston and now at Baylor, Briles has been known for developing potent offenses that put pressure on opposing defenses. And while Williams is the latest future first-round draft pick to put up big-time stat totals for Briles, the BU coach made sure to credit past players for showing Williams the way.
"You know, he's always been good," Briles said. "When he came in, he was scout-team player of the year, and he got to play with some great football players — Kendall Wright, David Gettis and Josh Gordon; you're talking about guys that are all playing in the (NFL) right now. So I think being around that high caliber of competition on a daily basis really helped him excel."
Hurricane hits home
While Weis has spent most the week preparing for Baylor, he also has kept an eye on the developments back home in New Jersey, where friends and family members had been forced to deal with the impact of Hurricane Sandy and its onslaught on the East Coast.
Weis said a tree fell onto — but not into — his mother's home, and many of his old haunts were impacted by the horrific storm.
"For all people in the Northeast, especially my family and friends, I wish them well," Weis said. "It looks like it was quite devastating. It's quite unusual to watch one of the places you grew up going to the amusement park being pretty much wiped out before your eyes. It's kind of sad to see."
Patterson expected back
For the first time in three weeks, senior wide receiver Daymond Patterson is expected to be in uniform for the Jayhawks again.
Patterson missed KU's last two games because of a head injury, but was cleared to return earlier this week. Weis said he would determine how involved Patterson would be in the offense after watching him in practice, but added that there were obvious advantages to having the senior from Mesquite, Texas, back in the lineup.
"He hasn't played in a few weeks, so we'll see how rusty he is," Weis said. "He's one of the most experienced guys you have, and experienced guys know the little tricks of the trade."
In other injury news, Weis said defensive end Toben Opurum and linebacker Jake Love were both expected to be available after missing part of the fourth quarter against Texas.
Baylor OL to miss half
Baylor left guard Cyril Richardson, a 6-foot-5, 335-pound junior from Fort Worth, Texas, will miss the first half of this weekend's game against Kansas to serve a suspension passed down from the Big 12 Conference. Richardson was ejected from last week's loss to Iowa State after kicking a Cyclones player in the fourth quarter.
"The only bit of good news out of this whole offensive list is that Richardson, who I think is by far their best offensive lineman, has to sit a half," Weis said Tuesday. "He is one tough, nasty player. So hopefully we've done enough damage in the first half so, when he comes back, he can't be a difference in the game. I wish the suspension was for a game, not half a game, but I'll take half a game."
Back to work
Sunday, following KU's 21-17 loss to Texas, Weis said his players were as disappointed as they had been after any loss this season. But, as had been the case all season, by Sunday night, they were over it.
"It's all the same," Weis said. "Every week is Groundhog Day. As disappointed as they are, by the time they leave (Sunday night), it's pretty much out of their system."
Weis said he and his coaching staff made it a priority to make sure of that.
"How we handle it is how they handle it," he said. "If I prolonged it, they would prolong it. They would certainly follow my lead. It's all about winning. And every week it's the same thing, it's just about winning that game. I can't worry about last week's game. I can't worry about next week's game."