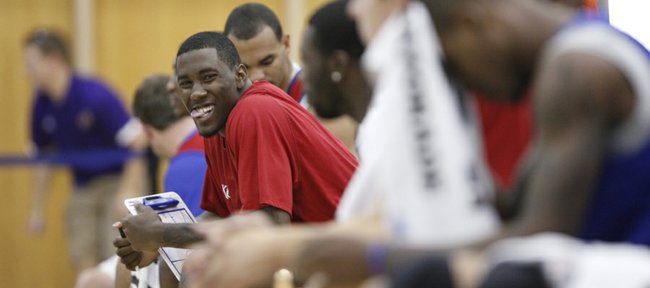 The long wait is over for Kansas University red-shirt freshman basketball power forward Jamari Traylor.
The 6-foot-8, 220-pounder from Chicago — who, as a partial qualifier was ineligible to play in games all last season — has been slotted a spot in the starting lineup for today's exhibition opener against Emporia State.
Tipoff is 7 p.m., in Allen Fieldhouse.
"He's played the hardest, and in the last week, he's played the best of the other guys, so he's going to start and Perry (Ellis) will be our first (big) guy off the bench," KU coach Bill Self said Monday.
Self noted that Traylor has been, "competing hard, playing to his athletic ability. ... He is relentless now. He'll go after the ball."
Traylor, who is eager to shake off the rust, said he's thankful he's been accorded his first start at KU.
"I would say so," Traylor said, asked if he considered the start a result of his work at practice. "I definitely bring my hard hat every day. I'm guessing coach really just threw me a bone, I guess.
"I wouldn't say that, but I guess I'm rewarded for my energy and my effort. I'm just happy they (coaches) believe in me. I'm going to go out there and give my all," Traylor added.
Traylor admits he's been impatient at times while waiting to play in his first game since his senior year at IMG Academy in Florida. Before that, the late-starter in basketball played one season at Chicago's Julian High.
"This is definitely a huge moment for me," Traylor said. "Not really me starting, it's not about that ... it's my first game. I've been sitting out a whole year. Late Night was like a weight lifted. This is another weight lifted. I just want to get out there and play."
As to what fans should expect ... "I am always a tough player. I'm one of the first guys to dive on the floor for a loose ball, getting 50/50 balls. I am a smart player when out there. I know I will bring energy and toughness," Traylor said.
He's be joined in the starting lineup by seniors Jeff Withey, Elijah Johnson and Travis Releford, plus another red-shirt frosh who sat out all last season, Ben McLemore.
"I think it's going to be great he'll be starting. He'll bring a lot of energy to our team," said McLemore, a 6-5 guard from St. Louis. "I think there will be a lot of nervousness out there, especially as far as me and Jamari and all the other freshmen. It will be our first college basketball game. I think it'll be good for us."
Self said Andrew White III, a 6-6 freshman from Richmond, Va., would likely be first perimeter player off the bench and 6-8 Wichita frosh Ellis the first big off the bench.
"He goes hard all the time," Ellis said of Traylor. "He is doing everything as hard as he can. It definitely could rub off on me, too."
Asked if he'll be a bit nervous making his KU debut, former Wichita Heights standout Ellis said: "That's for every game. I'm always a little nervous. It comes with it."
Self said he's eager to see how his freshmen react in a home game before 16,300 fans. He's hoping they are aggressive.
"This is my deal. I asked Travis, 'Has anybody (in frosh class) told you, 'Hey don't get hurt because if you get hurt you may not get your spot back?' Nobody's told Travis that. Nobody's walked up to Elijah and said, 'Hey I know you're the guy now but don't sleep on me.' We don't have that yet. We have nice kids and nice kids are great, but we need the mindset that, 'Hey, wake up every morning and I'm going to do whatever I can to take your spot, so just don't stub your toe.' I don't say that to be mean or belligerent or anything, but that's good for the old guys. The old guys want that. We don't need blenders. We need guys to take charge."
Teammates to tangle: Emporia State freshman Terrence Moore is a high school teammate of KU's Ellis. The 6-1 guard scored 12 points in ESU's 60-49 loss to Danny Manning's Tulsa team on Saturday in Tulsa.
"We're both looking forward to it, just getting the season started," Ellis said.
Self on having a team with four scholarship seniors and seven scholarship freshmen: "I mean it's the hand we've been dealt, but I like that hand. It's a good hand and there are a lot of people that would like to have our hand."
Self on former KU center Cole Aldrich being traded from the NBA's Oklahoma City Thunder to the Houston Rockets: "He needs to get a new contract (after rookie contract runs out this year) and this is a very important year. He needs to get on the floor in order to get that and he really believes this is a good move for him. So he thinks he'll have more opportunities there (to play). He had a pretty good preseason. He had a couple of double-doubles and did some things. I was disappointed because I like Oklahoma City so much, but I think it might be better for his career."
Injuries: Freshman forward Zach Peters, who has a rotator cuff injury in his left (shooting) shoulder, doesn't figure to start practicing anytime soon. "Apparently he is doing better with exercises and all that stuff but I asked him the other the day if he could shoot and he said it hurts too bad," Self said. "So I don't see any immediate resolution on that at all. He gets his arm in a certain position and it still bothers him a lot."
Also, freshman walk-on guard Evan Manning will not play because of a right foot injury that requires him to wear a boot. He's yet to practice this season. ... Senior Kevin Young is out with a broken bone in his right hand that will keep him out the entire exhibition season and likely the first regular-season game (SE Missouri State, Nov. 9).
Recruiting: Tyler Roberson, a 6-8 senior forward from Roselle (N.J.) Catholic, has narrowed his list of colleges to KU, Villanova and Syracuse. Rivals.com's No. 31-rated player has eliminated Kentucky, Rutgers and SMU from consideration and is hoping to choose a school in the "next week or so."
This, that: KU has won 36 straight home exhibition games dating to the 1994 season. ... KU is 13-3 versus Emporia State including a 5-0 mark in exhibitions. ... ESU is coached by former Colorado player Shaun Vandiver. The Hornets went 9-18 in his first season. ESU returns two starters from last year's squad and was picked to finish 10th of 15 teams in this year's MIAA poll.