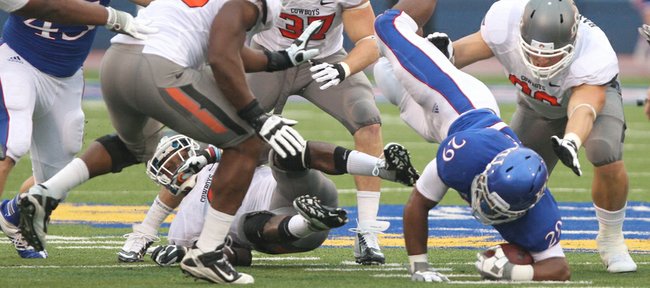 The lights were turned up at a factory in 1924, and productivity increased. After a while, the lights were dimmed, and productivity increased again. It's known as the Hawthorne effect.
Part of what happened when Charlie Weis replaced immobile senior quarterback Dayne Crist with the more elusive red-shirt freshman Michael Cummings in the third quarter of Saturday's lightning-interrupted football game could be attributed to the way the quarterbacks handle pressure from the defense.
And part of it could be traced to the Hawthorne effect. This was a team in desperate need of a change at quarterback. The second-half-collapse script had grown so tired, and Crist was such a central figure in it that removing him was as much what energized the Kansas University football team as how well the inexperienced replacement did in his place.
Junior running back James Sims never mails in a play, but the difference in him when the change came was noticeable. He looked at once quicker and more patient.
Nobody on the field played better in the 20-14 loss to Oklahoma State than Sims after the change came.
He did an extraordinary job of stopping blitzes with sound blocks all game and caught three passes for 42 yards, including a 28-yard gain. It was how he ran the football that seemed to get a boost. That and how the guys blocking for him seemed to blow open bigger holes.
Before the quarterback switch, Sims gained 45 yards on 16 carries, a 2.8 average. With Cummings at QB, Sims carried it 11 times for 93 yards, an 8.5 average.
After listening to Sims talk about the impact of Cummings entering the game, it's obvious more than just the Hawthorne effect was at play.
"It does help me out," Sims said. "Michael Cummings is a running-throwing quarterback, which means there are less people in the box because they have to worry about him running the ball as well. ... He's a dual-threat. You can't just key on the running back all the time. You have to key on him as well."
Kansas coach Charlie Weis didn't say who will get the start Saturday in Norman, Okla., and, really, how would it benefit him to say anything but that it will be a game-time decision? Keep Oklahoma guessing, although it's not tough to be on the right side of the guess. Going back to Crist after the way the team rallied would be painting the Cummings effect as a fluke. Plus, Crist didn't give his coach at two schools any reason to want to return to Crist the team that didn't respond to him.
The Sooners will be more ready for Cummings than Oklahoma State was because it's easier to see coming. They'll have a dual-threat game plan ready replete with wrinkles designed at rattling a young quarterback. Seeing how Cummings responds to all that makes this a far more compelling team than most saddled with a 1-5 record.
Cummings showed he can put a lot of mustard on the ball, and now we'll find out if he can take something off it and throw a change-up when it's the right pitch.
"Mike Cummings has a cannon," Sims said. "He's a little guy, but he can throw it. And he throws heat on it, too. I tell him all the time in practice, 'Don't drill the swing pass to me because it hurts my fingers.'"
To have its best shot at staging an upset that would lead "SportsCenter," Kansas will need Tony Pierson (sore left elbow) returning to come out of the backfield catching passes to give the defense one more reason not to put all the focus on Sims.
KU's Sims never will be mistaken for former Oklahoma great Billy Sims, but he definitely outplayed OSU's Joseph Randle, who came into the game with a Big 12-best 133.5 rushing yards per game on 7.1 yards per carry and was held to 2.8 yards an attempt.
Sims has rushed for 100 yards or more in seven of 27 college games, and there is no aspect of a running back's job that he doesn't perform well.
"He had a good day at the office. I mean, he really did," Weis said. "He had a full day, and he played tough, and he played physical. The best part about it, as sore as he should be, he feels worse emotionally than physically, which that's a good thing.
"Look it, they all hurt, but this is the first time we've gone out in the fourth quarter and played like a team that wants to win. First time. First time since I've been here. If you ask anyone who was the better team in the fourth quarter, I would be surprised if anyone would pick them."
And if you asked anyone who was the best player in the fourth quarter, as good as safety Lubbock Smith was, the correct answer would be Sims, whose greatest quality as a runner is that he knows how to rush the ball without rushing.
"I'm more patient," Sims said. "I'm not in a hurry to get to anywhere, just letting my blocks develop and going from there. Sometimes it's hard because it's so tempting to go here or go there. My coach tells me great running backs are patient, and they wait for blocks to develop."
And the more a quarterback can do to grab the attention of the defense, the more the running back's patience gets rewarded.