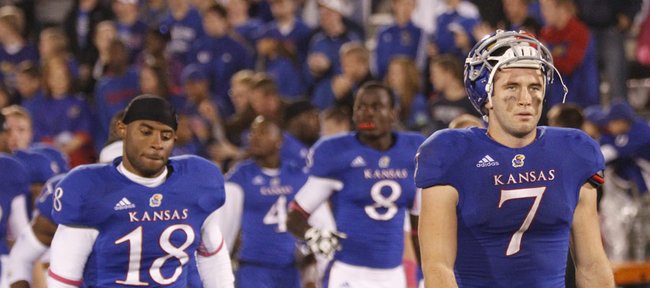 For three quarters Saturday at rain-soaked Memorial Stadium, Kansas University's football offense did next to nothing against Oklahoma State and found itself staring at 20-point hole in the final quarter with a feeling of hopelessness washing over whatever remained of the 31,115 announced attendance.
And then Michael Cummings entered the game.
Todd Reesing he was not. But it's OK if that thought crossed your mind, because, like Reesing against Colorado in 2006, Cummings, a red-shirt freshman from Killeen, Texas, gave KU life and represented the Jayhawks' best shot at a comeback.
It almost happened. But after reaching the Oklahoma State 41-yard line with 2:42 to play and the Jayhawks trailing by six, a fourth-down pass from Cummings to tailback Brandon Bourbon sailed high. KU's chances sailed away with it, and Oklahoma State held on for a 20-14 victory.
"I think he had a little bit more time to throw it than he thought he did," KU coach Charlie Weis said. "He's made that throw 100 times."
The fact that the Jayhawks — especially Cummings — were in position for that throw to matter was somewhat remarkable in itself.
Although starting quarterback Dayne Crist (10-of-22 passing for 136 yards) had led the offense to 236 yards through three quarters, the Jayhawks could not crack the scoreboard, as Crist's lack of mobility and four drives that ended after failed fourth-down attempts kept Oklahoma State firmly in control. But with 4:20 to play in the third quarter, Weis handed the ball to Cummings, and the Kansas offense took off.
"I just felt that I had to do something to try to bring some energy," Weis said.
One of the most crazy elements of a crazy day was this go-figure nugget from Cummings: "This was the first game my parents didn't come to," he said. "I'm sure I've got 100 text messages from them on the phone. I'm sure they were watching."
Asked how tough it was to inform Crist of the decision after all the two had been through together, Weis was brutally honest.
"Hey, it's difficult to make it," he said of the decision. "But this is about the team. This isn't about the player."
After a rough first series in which the Jayhawks went backwards 12 yards on three plays even though Cummings connected with senior wide receiver Kale Pick on a 21-yard completion, things began to get fun. On his second series, Cummings led a nine-play, 65-yard drive that ended with a 21-yard touchdown strike to tight end Jimmay Mundine. That play ignited the KU bench and all of those who remained in the stands.
"Once one person made a play, somebody else stepped up and made a play, and that's how it needs to be," Cummings said. "I felt like it sparked the team, and it definitely got the fans back into the game."
After a three-and-out from the defense, Cummings (5-of-10 passing for 75 yards and a touchdown) led KU on a two-play, 73-yard drive in which junior tailback James Sims did the heavy lifting. Sims, who finished with 180 yards of total offense on 27 carries and three receptions, ran twice for 58 yards, including a 30-yard touchdown.
Cummings' escapability drew a face-mask penalty for the other 15 yards, and, just like that, after being left for dead just a few minutes earlier, the Jayhawks were down 20-14 with nearly nine minutes to play.
"He kind of made one play and then another and then another," KU senior safety Bradley McDougald said. "We were just like, 'If it's gonna be Mike, it's gonna be Mike.' It definitely gave our defense a lot of mojo because after that guys just had a killer-instinct look in their eyes."
It showed on Oklahoma State's next drive, as the Jayhawks (1-5 overall, 0-3 Big 12) again turned the Cowboys away, this time after five plays.
"If you were telling me that we were gonna hold 'em to 20 points, I'd say, 'Sign me up,' 100 out of 100 times," Weis said in praise of his defense. "They really kept us alive into the fourth quarter and gave us a chance to rally and have a chance to win."
McDougald was pleased but hardly impressed.
"That's your job," he said. "You shouldn't really get credit for it."
Although KU's final drive fell short, it had plenty of highlights.
Sims ran like his scholarship depended on it, and Cummings made one of two throws he really had to have, a 14-yard-and-one-inch completion to Pick on third-and-14 deep in KU territory.
"That was big," Cummings said with a smile. "(Pick) was first in the progression, he won his route, and you know if you get the ball near No. 7 he's gonna make a play."
Even though the drive stalled, KU's thrashing defense, which limited Joseph Randle — the Big 12's leading rusher — to 80 yards on 29 carries, forced a punt with 1:46 remaining. Instead of taking over with a chance to drive for victory, the Jayhawks roughed punter Quinn Sharp, allowing OSU (3-2, 1-1) to retain possession and run out the clock.
"I didn't think it was that risky," Weis said of going after the kick. "It's just a kid trying to make a play."
Although the postgame moods did not reflect what showed on the scoreboard, Weis was quick to point out that the result was not acceptable but the effort was.
"They're all miserable, and that's good," Weis said of his team. "But it's a different type of feeling in the locker room today. They all hurt, but this is the first time we've gone out in the fourth quarter and played like a team that wants to win."
Cummings' play and the team's response definitely give Weis something to consider at the game's most important position. However, when asked after the game if he knew who his starting quarterback would be next week in Norman, Okla., Weis offered a hint of perspective to cap off a game that took four hours and 22 minutes to finish and included a weather delay of more than an hour.
"It's 7:22 after an 18-hour game," he said. "So, no. But I think you have to honestly evaluate where you are right now and what gives you the best chance of winning. And whatever that answer is, that's where we'll go."