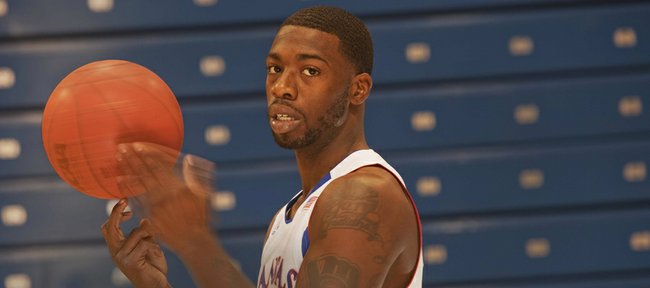 For the first time in a long time, there's a new point guard running the show at Kansas University.
Photo Gallery
KU men's basketball media day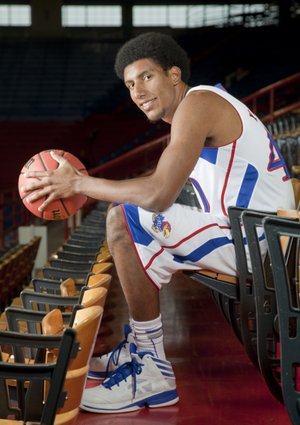 Photos from Kansas men's basketball media day on Thursday, Oct. 11, 2012.
Videos
Elijah Johnson talks about his leadership style, adjusting to personalities and being the favorite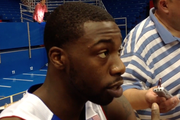 Kansas guard Elijah Johnson discusses leadership, adjusting to personalities and being the Big 12 favorite. He talked to reporters during KU media day on Oct. 11, 2012.
He's former Jayhawk combo guard Elijah Johnson, who takes over as floor general following the departure of four-year starter Tyshawn Taylor, a rookie with the NBA's Brooklyn Nets.
"Hand the keys over. I'll drive. I definitely will drive," the articulate 6-foot-4 Las Vegas senior said Thursday at men's basketball Media Day in Allen Fieldhouse.
"But it's not just about me," Johnson quickly added, disagreeing with an inquisitor who referred to the 2012-13 Jayhawks as "Elijah's team."
"Thanks for the compliment," Johnson said, "but it's still, 'our year.' If we lose, Travis (Releford) is going to feel worse than I feel. Jeff (Withey) is going to feel worse than I feel. Kevin (Young) is going to feel it's our last run. I'll share it with them," he added of his fellow Jayhawk seniors.
Johnson, who averaged 10.2 points a game with 137 assists against 71 turnovers last year for KU's NCAA runner-up team, does admit it's nice to be a lead guard once again.
The last time he had the same responsibility was his senior year at Cheyenne High.
"Honestly, yes I have (missed it)," Johnson said. "I think that setting the pace and being a person who can bring air into the room, giving life ... I think that's the funnest part of basketball. I really do.
"Personally I get to have — I don't want to say more fun — but I get to set the speed. Last year we played at Tyshawn's speed, whatever that had to be. Sometimes he was downcourt before everybody. I'm setting the speed (now). I like that the most."
Johnson said he's planning on letting his true personality flow freely his senior campaign.
"Not to say I'm this fancy, flashy basketball player, but last year I did everything how it's supposed to be done — out of the book," Johnson said. "I didn't add an 'Elijah Johnson flavor' to it. I just did what I'm supposed to do, but this year ... I plan to have a little more fun because you've definitely got to rile some of these people up.
"There's a little more freedom that comes with the years. I don't think coach will have a problem with me being comfortable out there doing what I do as long as it's beneficial."
Coach Bill Self said Johnson has earned his trust.
"It is one of those things that I am going to hold Elijah responsible for how the freshmen perform. If he wants to be a leader, he is going to have to make sure those guys' heads are right to give us the best chance," Self said.
Johnson has already wrapped his arms around the Jayhawk newcomers: Case in point, Boot Camp, when the players were exhausted after running sprint after sprint, day after day for a two-week period.
"One day we were running and Landen (Lucas, frosh center) ... he wasn't about to break, but it was getting to him. Everybody was trying to motivate him saying, 'C'mon, c'mon.' I said 'Leave him alone.' I looked at him (Lucas) and said, 'You've got it.' He finished it. The tiredness just left. That's what people need to hear sometimes, when you feel the whole world is against you.
"I feel Landen would do anything in the world for me. I'm not saying I did it for that reason, but that's how it works. I've done that with a lot of people. There's still some people I haven't had a chance to get to. I let them know, 'I'm personally here for you. You want that lob, I'll throw it to you. You want a backscreen, I'll set it for you.' It's a mutual thing. I don't want people to think it's all about the seniors or one person in the starting five. It's about people on the bench, too."
Freshman Ben McLemore and Rio Adams said Johnson has already proven himself worthy of being starting point guard on a Big 12 and national title contender.
"He's great, one of the best point guards I've ever seen — a great person on and off the court," McLemore said.
"He is a leader on and off the court. It's all we need from him. He's keeping us focused," Adams stated.
Johnson said he learned a lot from his buddy Taylor, who like Johnson, enjoyed talking to the media.
There is one difference between the two, however.
Taylor liked to express himself on Twitter; Johnson not so much.
"I'm not big with social networking," Johnson said. "I feel you should think about things rather than just stating an opinion for a few seconds that might change tomorrow. I stay off all the social networking. I get on and I read because it's definitely interesting. I choose to not really share too many thoughts on there."
Self believes fans will be tweeting a lot of positive comments about the Jayhawks' new, starting lead guard this season.
"We are going to rely on keeping the ball in Elijah's hands probably more so than we even did last year with Ty (Taylor)," said Self, who said he hopes Naadir Tharpe and Rio Adams are capable backups. "The thing about Tyshawn last year, he had the ball in his hands at game point for important possessions most of the time, but Elijah could take pressure off of him. This year we are going to have to do a good job of developing some other guys and getting Travis (Releford) and Ben more comfortable with the ball in their hands and basically being smart on how we play Elijah and rest him to make sure he is fresh going down the stretch."