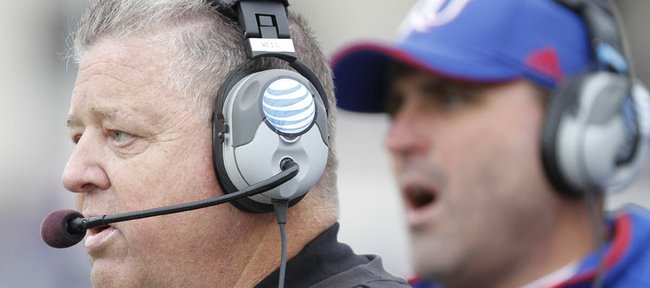 Following Saturday's loss to Kansas State, and again during a conference call with reporters on Sunday night, Kansas University football coach Charlie Weis vowed to explore anything and everything that could solve his squad's second-half struggles.
Tuesday morning, during his regular weekly news conference, Weis shared the details of a new plan that was mostly personnel driven.
Although the updated depth chart showed very few changes, Weis said some of the guys who had been listed as back-ups could receive meaningful playing time this weekend when the Jayhawks play host to Oklahoma State at 2:30 p.m. Saturday.
"There's several guys that I don't know enough about when they go on the field," Weis said. "Some of them I don't know enough about because there's guys that are older playing ahead of them that, in practice, play better than them by a wide margin."
Weis pointed to his offensive line as an example.
Instead of letting second-string left tackle Pat Lewandowski continue to play mostly in mop-up duty, Weis said he would consider giving Lewandowski a series or two in the first half Saturday. Same for red-shirt freshmen Damon Martin at left guard and Dylan Admire at center.
"How are we gonna find out what they're gonna do against competition if we never play 'em?" Weis asked. "That's the Catch 22 you're in. You want to know but never at the expense of risking something in that game."
The theory says that putting the less-experienced reserves in early on gives them a chance to play when the game is still close, which, in turn, gives Weis and his coaching staff a better indication of how those players stack up against Big 12 talent.
"Everyone wants to look at developing your team as giving up on your team," Weis said. "And they misconstrue the whole thing. You can't ever sacrifice your current team for the sake of development. At the same time, you have to do both things simultaneously."
One other potential advantage of giving a guy like Admire a shot at center is, if he pans out, Weis could then look at moving starting center Trevor Marrongelli to right guard (he started all 12 games last season at left guard) to help shore up a section of KU's offensive line that has struggled throughout the season.
Although he used the offensive linemen as his example, Weis said the theory held true with every position on the team where an experienced and entrenched veteran was starting ahead of an inexperienced backup. That includes quarterback, where red-shirt freshman Michael Cummings also may be in line to play an extra series or two in the coming weeks.
"I'm cognizant that the second half has been our biggest issue," Weis said. "You don't think I'm thinking about that, too? I'm thinking, 'What can I do?' And, trust me, it'll be addressed here in the next 24 hours, because I'd rather go down swinging than not take a swing. I'm not taking a called third strike, I promise you."
Calling all kickers
While most of the personnel tweaks Weis hinted about on Tuesday were geared toward development, one concrete change on the depth chart came at place kicker, where Weis opened things up and planned to give freshman Austin Barone a shot to compete with junior Ron Doherty for the starting job.
Asked why Barone was in the mix, Weis was blunt.
"I'd like to make a field goal," he said. "That'd be a good start."
So far this season, Doherty has connected on just five of 10 field goal tries, including a 1-of-5 mark on kicks longer than 30 yards. Last week, in the 56-16 loss to K-State, Doherty missed a 24-yarder in the first half that killed KU's momentum.
"Those have to be automatic," Weis said. "Sometimes you can blame everything on the kicker, and Ron certainly would accept his share of the blame, but there's a lot of things that factor in."
Although Doherty has been solid as a punter — 40.5 yards per kick on 21 attempts — Weis said he would be on the lookout for place kickers in the next recruiting class. Asked if he had committed to offering a scholarship to a kicker in the current class, Weis' answer emphasized the Jayhawks' desperation.
"Maybe two," he said. "I'm not gonna come on the short end of that stick, I promise you."
Sharp living up to name
While the Jayhawks have struggled to find a reliable kicker, the Cowboys have not. Anchored by the big leg of senior Quinn Sharp, Oklahoma State has been dynamite in all aspects of the kicking game throughout the season.
"Their best player might be their kicker," Weis said. "This Quinn Sharp, he might be the best player at his position in the country."
Through four games, Sharp is averaging 44 yards per punt, has bombed 27 touchbacks in 32 attempts, hit seven of nine field goal attempts and drilled all 28 extra point tries.
"He's exceptional," Weis said.
Giving to a good cause
A portion of all tickets sold to this weekend's KU-OSU game will be donated to the Jayhawks for a Cure fund, which supports cancer treatment and prevention at the KU Cancer Center and Lawrence Memorial Hospital. For every ticket sold to Saturday's 2:30 p.m. kickoff with the Cowboys, $5 will go directly to the Jayhawks for a Cure fund.