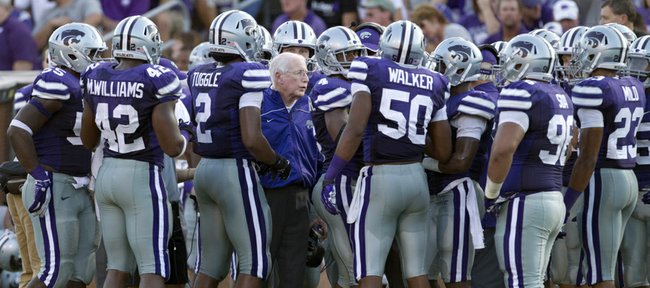 Although Kansas University's football team was off last week, the Jayhawks' bye afforded them very few opportunities to kick back, put their feet up and relax.
"It wasn't a light week for 'em," KU coach Charlie Weis said Tuesday during his weekly meeting with the media. "They probably hit more last week than they've hit any week the entire season. They hit Tuesday, they hit Wednesday, they hit Thursday, and everything was full-speed. Quarterbacks were live the whole week, too. There were no red jerseys out there."
Weis said the week of physicality was designed to emphasize the importance of finishing off opponents. His players said the off week was demanding.
"It's football, man," said senior tight end Mike Ragone. "This ain't tennis. We just want to compete, and we bring it. We wanted to go full-speed. We need it."

The extra work put in last week was not limited to the players. Weis put himself through a rather rigorous week in the film room, too. Heading into last week, KU's first-year coach had watched plenty of film on the Wildcats. He had seen their schemes, personnel, tendencies and a lot of talent. And then he looked for more.
"What I did, that you don't really have time to do usually, is I went in and did Kansas State's entire team," Weis said. "I went and just watched the left guard. And then I met with the defense on Sunday and said, 'OK, here's the left guard. This is who he is. This isn't just how tall he is, this isn't just his name and his hometown, this isn't his status in school. This is who he is.'"
He continued.
"Here's the left tackle — 6-9, 325 pounds," he said. "What can I tell you about him? What things can I tell you to get you better prepared to play against him?"
Weis did that with every relevant player in every game the Wildcats had played this season, all with the idea of gaining an edge — however small — for his players to take advantage of when they travel to Manhattan for Saturday's 11 a.m. kickoff against the seventh-ranked Wildcats.
"Learning what they're doing really isn't the issue," Weis said. "It's learning what they're doing with who they have this year — what are they doing now that they weren't doing and why are they doing it? And then what are you gonna do about it?"
In every way, Weis has the utmost respect for K-State coach Bill Snyder and the program he has built, going as far even as to call it "a role model" for what he would like to build in Lawrence. But having respect for an opponent and lying down for him are different things, and, respect or not, Weis has done and will continue to do everything he can to put his Jayhawks in a position to win this weekend.
"You can't go to a game saying, 'Well, we're 1-3, they're 4-0, let's go in there and just try to keep it close. The fan base'll be happy. Just go in there and try to keep it close.'" Weis said. "I'd rather lose by 100 trying to win."
More on Snyder
There's a story Weis likes to tell about the time he was working for Bill Parcells and was sent to Manhattan to talk to Snyder about an offensive lineman Parcells had interest in drafting. Before making the trip to the Little Apple, Weis requested a meeting with Snyder, and, when he arrived, Snyder's secretary politely asked Weis to wait. Hours later, according to Weis, he continued to wait. Once Snyder finally came out, the two coaches met "for 30 seconds and that was the end of it."
Weis surely never imagined he one day would square off against Snyder in the Sunflower Showdown, but the brief meeting and all that waiting did nothing to alter the respect Weis had for the legendary KSU coach.
"A lot of times when people have an in-state rival, they want you to say negative things," Weis said. "But it's kind of tough for me to say anything negative about coach Snyder. I think he's a great offensive mind, besides being a hell of a head coach."
Weis opened Tuesday's meeting with the media by laying out the history of the KU-KSU rivalry and outlining all of the things that make K-State one of the nation's best teams. When he was finished, a reporter referenced the fact that Weis had just painted a picture of K-State seemingly owning every advantage. Weis agreed.
"Correct," he said. "Starting with the head coach. That may be their biggest advantage."
Jayhawks healthy
A couple of Jayhawks who missed time against Northern Illinois because of injury two weeks ago are expected to play this weekend against Kansas State.
Senior safety Lubbock Smith, who missed two games because of a leg injury, and junior running back Taylor Cox, who started at NIU but left the game early in the first quarter, were back practicing full-speed on Tuesday.
"Everybody's on the go list," said Weis of KU's available players. "Even the guys that were banged up the last time we played."
No motivation necessary
Although this weekend's game marks his first shot at the Wildcats, Weis made it clear that he understood the importance of the rivalry to people across the state and how that trickled down to his players, particularly KU's 24 Kansas natives.
"We're 1-3, we're playing against our in-state rival, who's been owning (us) for the last three years," Weis said. "If you really need to motivate them, then we really have a serious problem. Now, you prod 'em, but it shouldn't take much prodding. It should be as plain as day. I shouldn't have to be Ronald Reagan, 'We're winning one for the Gipper.'"
Self extension a win-win
At the end of Tuesday's news conference, Weis, who makes $2.5 million per year, was asked about the recent contract extension given to KU men's basketball coach Bill Self that is worth more than $53 million through the year 2021-22. As he has done since arriving in Lawrence, Weis sang Self's praises.
"Every once in a while, you have an opportunity in sports for both sides to win," Weis said. "It doesn't happen very often now. Usually either the coach wins or the organization wins. But every once in a while, you get a special situation that comes along where both sides end up winning, and, to me, that's what that was.
"A guy who's won eight (Big 12) championships in a row, who's just done a wonderful job, who really is, right now one of the best, if not the best, coaches in America in any sport, and to be able to set up a situation for everyone to walk away from this content, I'm glad it worked out that way for KU. I think it's a great thing."