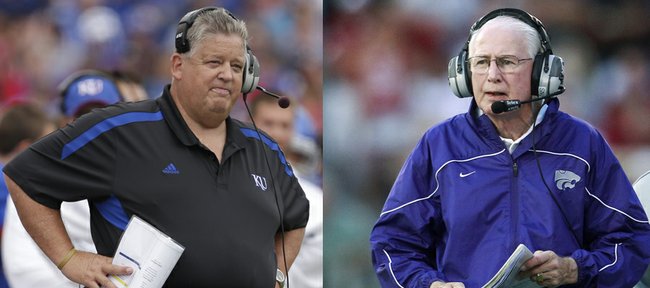 In the 21 years that Bill Snyder has paced the sideline as the head coach at Kansas State, he has stared across the field at four different Kansas University head coaches during the annual Sunflower Showdown.
None of those KU coaches had much success against Snyder, the 72-year-old coach who once was known as the architect of one of the greatest turnarounds in college football and now is simply known as one of the greatest coaches in college football.
Glen Mason went 3-5 against Snyder. Terry Allen was 0-5. Mark Mangino finished 1-4 — and benefited from the Ron Prince era when Snyder stepped away for three seasons — and Turner Gill finished 0-2, with the Wildcats hanging 59 points on the Jayhawks in back-to-back seasons.
Snyder will face his fifth KU coach this Saturday, in Manhattan, when Charlie Weis brings his 1-3 Jayhawks to town for an 11 a.m. kickoff against unbeaten and seventh-ranked K-State at Bill Snyder Family Stadium. Although the names of the opposing coaches have changed, Snyder's approach to the showdown has not. Each year, Snyder has made sure the meeting with the Jayhawks was viewed as one of the Wildcats' biggest games, and his dominant 16-4 record against Kansas illustrates that his emphasis has been worthwhile. However, the beauty of his approach, Snyder said, is that, most years, it's unnecessary.
"I don't think you have to find ways to motivate young guys because I think it means an awful lot to them," he said during Monday's Big 12 coaches teleconference. "We have a lot of young guys from the state of Kansas in the program so it carries some extra meaning for them. And their teammates appreciate that a great deal, so I think there is a built-in motivation."
The Wildcats are a team Weis has talked plenty about since taking the job at KU last December. His focus, however, has not centered around this specific match-up but rather Snyder's sustained excellence and how it relates to the program Weis believes KU could and should have.
"The University of Kansas was 2-10 (in 2011)," Weis said at his introduction. "The other major school in the state is Kansas State, who was 10-2. I only have one question to ask: Why? Why is the University of Kansas 2-10 and why is Kansas State 10-2? I don't have that answer, but that is what I am here for."
Obviously, it has been slow going in that regard, but as Weis takes his first stab against Snyder this weekend, he's hoping that his players realize the same thing he realized before he ever set foot in Lawrence.
"When I got here it was always Kansas-Missouri if you were from Kansas," he said. "But at Kansas State it was, 'Let's go beat Kansas.' The last three years they have laid a pretty big whooping on us. Now that Missouri is in the SEC, Kansas needs to have that same focus and energy on the in-state rival that Kansas State does. That's the direction we are headed."
The rivalry's importance was a popular topic on Weis' weekly Hawk Talk radio show Monday night. And he emphasized his stance.
"They've done a better job than us of magnifying the importance of this game," he said of KSU. "And, whether we win or lose, I promise you it won't be because the game wasn't magnified in its importance."
Twitter trouble
Last week, KU defensive lineman Keba Agostinho, however innocently, fired the first shot of bulletin-board material in this week's Sunflower Showdown when he posted on his Twitter page that KU led the series with KSU, 65-39-5, and even made mention of KU's hoops dominance.
Asked about the incident on Monday, Weis first pointed out that Agostinho's misstep was short-lived — "He didn't tweet it out for long" — and then explained his general policy on social media.
"We don't tell players what to say and we profess that they use common sense," Weis said. "For any player to get on Twitter and say something disrespectful to another team doesn't make any sense. Sometimes young men make mistakes about what to say and what not to say and you just have to use that as a teaching moment to let them know that is not what we are looking for."
KU-OSU kickoff set
The Kansas football team's Oct. 13 home game against Oklahoma State will kick off at 2:30 p.m. and will be televised on FSN, the Big 12 announced Monday morning.
It will mark the second game KU has played on FSN this year, as the Jayhawks' Sept. 8 game against Rice also was on the network.
• A previous version of this story has been updated.