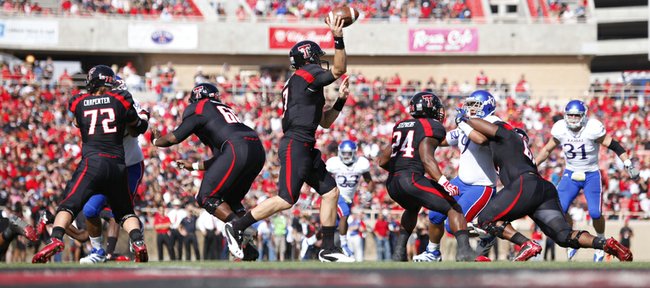 Photo Gallery
KU football v. Texas Tech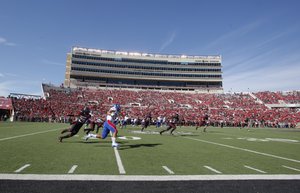 Images from Saturday's game against Texas Tech at Jones AT&T Stadium in Lubbock, Texas.
Podcast episode
KU coach Charlie Weis talks after his team's 41-34 double-overtime loss to Texas Tech on Nov. 10, 2012.
Box score
Lubbock, Texas — With life on the road being awfully unkind to the Kansas University football program during the past few seasons, KU coach Charlie Weis altered KU's travel plans this week in hopes of fielding a more focused football team during Saturday's game against Texas Tech.
Rather than bringing 70 players, which is the maximum number allowed by the Big 12 Conference, Weis trimmed KU's travel list to 54 on Saturday. Most of the guys who missed the trip were younger guys who probably would not have played anyway. However, there were a couple of regulars who were left in Lawrence, most notable among them being junior wide receiver Christian Matthews and red-shirt freshman offensive lineman Damon Martin, who, during recent weeks, had elevated himself to starter status at left guard.
Although Weis' change of plans did not change the outcome — KU fell, 41-34 in double overtime — KU's first-year coach seemed pleased with the effort put forth by the 54 guys who made the trip south for KU's second-to-last road game.
"This was about going on the road with guys that really, really care," Weis said. "It's important to them. I'll take that group of guys that played today and give us a chance whenever we're playing."
Defense delivers
During most weeks of the 2012 season, the KU defense has taken its lumps early but ironed out the wrinkles quickly and delivered games both Weis and defensive coordinator Dave Campo could be proud of.
"We just settle in," senior safety Bradley McDougald said. "The beginning of the game is the toughest, and that's why coaches thrive on getting off to a fast start because it boosts you and gives you momentum."
McDougald said KU's early in-game communication — from coaches to players and players to players — had been a strength of the defense throughout the season and that, again, was the case Saturday, as the Jayhawks limited Texas Tech's explosive offense to just six points from the 12:20 mark of the second quarter to the end of regulation.
McDougald's interception of TTU quarterback Seth Doege was his third of the season and provided the KU defense with a huge shot of confidence.
"Coach Weis always talks about, 'Stop the bleeding. Stop the bleeding,'" McDougald said. " ... It could've went to 28-7 (Tech), but instead, we brought it to 21-14, and that changed the whole game."
Weis would've gone for it
Whenever overtime games occur in college football, fans and analysts seem to enjoy speculating on whether a coach will or will not go for two after a score.
Although KU took the lead by scoring first in the initial overtime, Weis said rolling the dice at that point was not right. His mind changed quickly, however, when KU found itself driving for a catch-up touchdown in the second OT.
"I was going for two if we scored there," said Weis of KU's possession in the second OT. "I told the defensive coaches, 'This is gonna be it either way. Because if we score, we're going to try to end this right now.'"
It never happened, of course, as KU's final drive stalled when a Michael Cummings pass to the end zone on fourth down was batted down.
Tuberville explains incident
Midway through the third quarter, with Tech leading KU, 21-17, television cameras caught Texas Tech coach Tommy Tuberville engaging in an altercation with an assistant coach on the sideline in which Tuberville appeared to strike the coach with his left hand, knocking off his hat and headset.
After the game, Tuberville explained what went down.
"Oh, I reached and grabbed him," Tech's third-year head coach said. "He was on the field, and I reached to grab him to pull him off. It wasn't anything to it. It was just one of those deals where I missed his shoulder and ended up grabbing the microphone on his headset and pulled it off."
This and that ...
The Jayhawks won Saturday's opening coin toss for the first time in four weeks. The Jayhawks deferred their choice to the second half, and Texas Tech elected to receive the opening kickoff. ... Red-shirt freshman offensive lineman Luke Luhrsen made his debut for the Jayhawks. ... The double-OT loss was KU's first overtime game since falling to Baylor, 31-30, in overtime last year in Lawrence. KU is now 3-5, all-time, in overtime games. ... Temperature at kickoff was 68 degrees, under partly cloudy skies with winds of 24 mph out of the south.