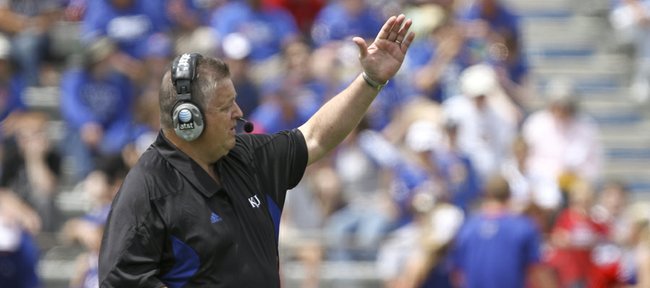 It's early to draw any concrete conclusions on where, other than in the home state and neighboring Missouri, the new Kansas University football staff will concentrate its recruiting efforts.
But it's not too early to get a hint. Thus far, it looks as if the Charlie Weis recruiting net will more closely resemble Glen Mason's than Mark Mangino's.
Mason, who played at Ohio State and came to KU from the head-coaching position at Kent State, had a national/Big Ten flavor to his recruiting. He started at home with Kansas and Missouri, then took a national recruiting approach, drawing equally from California, Florida, Michigan, Ohio and Texas.
Mangino, who had worked at Kansas State and Oklahoma, concentrated his efforts in Big 12 country, heavy with Texas players first, then Kansas, Oklahoma and Missouri.
Weis spent five years coaching at Notre Dame, the ultimate national football program. He built a national name in the NFL, so it stands to reason he would have national appeal as a recruiter.
Rivals.com lists 34 players from the next recruiting class who have received scholarship offers from KU, three of whom have made oral commitments. The geographic breakdown: five from California and Missouri, four apiece from Florida, Ohio and Texas, three from Kansas and Washington, D.C., one apiece from six different states.
Compare that to Mason's and Mangino's final rosters, and remember many Kansas natives were walk-ons.
Mason listed 99 players on his 1996 roster: Kansas 21, Missouri 14, California and Ohio nine, Florida and Texas eight, Michigan seven, Illinois four, Colorado and Pennsylvania three apiece were the most common home states.
Mangino had 102 names on his 2009 roster, including 33 from Texas, Kansas 24, Oklahoma 11, Missouri nine, Florida four, California, Illinois and Ohio three apiece.
Not counting the six transfers from Division I schools, Weis is bringing in 20 new players in 2012, and Texas leads the way with six.
So far, the new staff has not brought in any players from Oklahoma, a fertile recruiting state for Mangino, but not for Mason.
On the surface, the fact that just four of the 34 players listed by Rivals as having received offers from Kansas come from the state of Texas seems like a cause for concern, but without football staffs showing their cards in recruiting, it's tough to read too much into that.
Sometimes coaches like to wait until the end to make offers so those recruits can't use that leverage with schools closer to home, trying to draw offers.
Weis' name is a national recruiting plus, but one that could be nullified if KU doesn't maintain a strong pipeline to Texas, where Big 12 exposure helps every conference member.