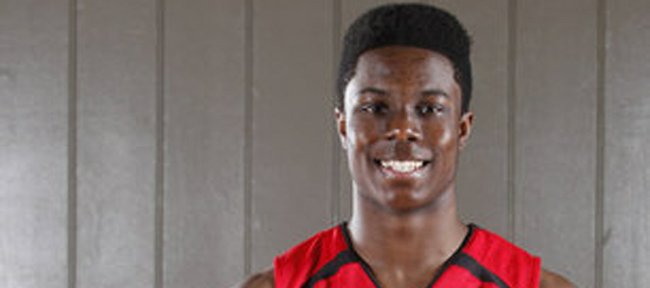 Ottawa High senior-to-be Semi Ojeleye will make an unofficial basketball recruiting visit to Duke on May 31, Rivals.com reports.
Ojeleye, a 6-foot-6, 215-pound forward who is ranked No. 37 nationally, has 11 schools on his current list. Arizona, UCLA, Stanford, Kansas State, Illinois, Missouri, Wisconsin and Oregon have offered scholarships; Duke, Kansas and Indiana have not yet offered.
Ojeleye averaged 32.5 points a game this past season in leading Ottawa to a second-place finish at the Class 4A state tournament. He exploded for a career-high 50 points against Spring Hill.
"I'll cut it down a little toward July," Ojeleye told Rivals.com, referring to having a workable list.
"This is a blessing. You have to take it in stride," the Mo-Kan Elite AAU player added of all the attention.
The brother of former Kansas State player Victor Ojeleye, Semi hit 18 of 37 three-pointers at the Boo Williams AAU Tournament in Hampton, Va.
"I've been playing pretty well," Ojeleye told CBSsports.com. "I always want to keep working. I'm working on my consistency, playing hard."
Of choosing a college, he said: "I'm looking for a great coach, and a place with high academics. You have to look for the best fit for you."
Sasha's team wins: Former KU center Sasha Kaun's CSKA Moscow basketball team last week rolled to its 10th straight Russian PBL League championship, beating Khimki Moscow three games to none.
Kaun, a 6-11, 250-pounder from Tomsk, Russia, scored three points and grabbed six rebounds while playing 12 minutes in the 90-75 title-clinching Game Three victory. For the season, Kaun averaged 4.3 points and 2.0 rebounds while logging 11 minutes a game. CSKA Moscow played the final two games without Euroleague MVP Andrei Kirilenko.
Mum's the word: Still no word from former South Carolina forward Damontre Harris, who will transfer to either KU or Florida. The 6-9, 225-pound junior-to-be from Fayetteville, N.C., had hoped to decide by now.
"I don't have any news to report right now," his mom, Sheronda Harris, told Rivals.com. "I'm still waiting (for Damontre's decision)."