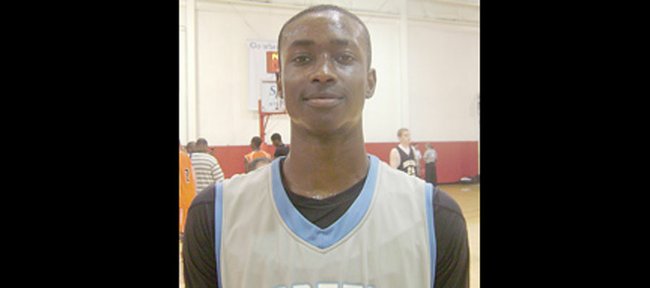 Anrio Adams, the Associated Press Class 3A basketball player of the year in the state of Washington, should be able to make an immediate, major impact at Kansas University during the 2012-13 season.
So says Seattle Rainier Beach High coach Mike Bethea, whose squad rolled to a 28-2 record and state title in 2011-12, thanks in large part to Adams, a 6-foot-3 senior combo guard who averaged a team-leading 23.0 points and 6.0 assists a game.
"The guy is such a big-time talent. If he does what he's supposed to do, he'll be the starting point guard (at KU) next year," said Bethea, who stands by an earlier statement that Adams reminds him of Miami Heat phenom Dwyane Wade.
"No question about it. Anybody who sees that kid. He has ... oh my goodness, the kid is so talented," Bethea added. "He is gifted with the ball. He had three to four double-assist games for us. He knows how to get people the ball in the right position and knows how to score as well."
Adams, who orally committed to KU on Nov. 19, hasn't generated much buzz nationally.
That could be because some have questioned whether the No. 98-ranked player in the Class of 2012 will be eligible to play next season.
Adams reportedly did not sign a letter-of-intent Wednesday, the final day of the spring signing period, because he has yet to be cleared academically for a scholarship. Reportedly, his most recent ACT score in coming weeks will be matched with his final semester grades in core courses and a determination on his eligibility finalized. No letter of intent is necessary for a high schooler to play college basketball.
Adams — he began his junior season at Seattle's Franklin High before transferring to Seattle Garfield and moving on to Rainier Beach for his senior campaign — said Wednesday on Twitter he will arrive at KU on June 28. "Also I Will Be Wearing #2 this Year J-hawkation! I Got a Composite Score of 18 i passed," he wrote, apparently referring to the score on his most recent standardized test.
On Facebook, Adams wrote: "Passed My ACT I will be Attend KansasUniversity On June28th!! #JAyHawkNAtion.... i got a SCORE OF (18)."
Coach Bethea believes his prize pupil will survive the standards of the NCAA clearinghouse.
"You know what? I'd be surprised if he's not (eligible). He's been doing very well," Bethea said. "The first time he took the SAT, he just went in and took it cold turkey. He studied for the ACT. He knew what he had to get to qualify. We're keeping our fingers crossed, hoping for the best. I think he'll be OK."
Assuming Adams qualifies, KU would have 12 scholarship players for 2012-13. KU has not yet offered Chicago combo guard Milton Doyle, who visited campus Monday and Tuesday. The Jayhawks are awaiting word from former University of South Carolina forward Damontre Harris, who is expected to choose between KU and Florida any day now.
KU only has scholarship space for two of the three of Adams, Harris and Doyle.
"He's really fired up about being a Jayhawk," Bethea said of Adams. "There's history with his godbrother, Rodrick (Stewart, Rainier Beach High graduate and former KU guard). Rodrick told him how things are down there (at KU). He's pretty amped about going there."
Bethea said he can understand why Adams hasn't inked a letter-of-intent, considering freshmen Ben McLemore and Jamari Traylor were ineligible a year ago.
"That's why we're approaching this here with kid gloves," Bethea said. "Coach (Bill) Self and those guys have to make sure everything is all lined up in a row before they can physically commit to signing him. It's one of those things when we learn he's good to go ... coach wants him to be there. He wants to be there."
Adams would be stunned if he's not contributing for KU this upcoming season.
"He's not even thinking any other way than being a Jayhawk," Bethea said.
Doyle likes KU
Milton Doyle, a 6-4 senior from Chicago's Marshall High, had a great time on his visit to KU.
"I had never seen Allen Fieldhouse up close, so that was a cool experience for me," he told Rivals.com. "Being able to see Allen Fieldhouse just allowed me to see how much history the program has. Everybody already knows what Kansas basketball is and what it's about, but it was good for me to see some of the history for myself."
Doyle, who averaged 19 points, eight rebounds, five assists and five steals last season, wants to attend KU, which his mom Lisa calls his "dream school."
"I really don't know what I'm going to do next," he said. "Kansas is definitely at the top of my list."
Self says …
KU coach Self was featured on Jason King's ESPN coaches corner on Wednesday. He was asked if he'd like the Big 12 to add a few more teams or stay at 10.
"I thought nine was the perfect number. Because that way you're playing 16 league games and, in football, everybody plays eight games," he said. "But I understand the reasoning why you'd want to go to 10 or 12. It gives you more of an appearance of stability and more of a safety net as conference realignment continues to develop. Hopefully the brakes have been put on that, at least for the short term. But I anticipate us expanding. We've even heard rumors here recently about a school from the ACC (Florida State) potentially looking to come our way. I think you'll have more and more of that talk. Because the Big 12, at least from an appearance standpoint, is on the best footing it's been on in a long time."
Of McLemore, he said: "From an athletic standpoint, he's about as impressive of a kid as we've had. He's got great feet. He could be a good defender. There aren't too many guys that can score that want to be told they could be a great defender. But he could be. He could be a terrific defender."