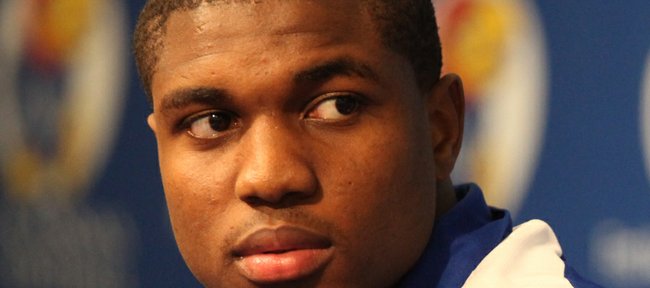 Not yet.
So says the NCAA, which on Wednesday, after an appeal heard by the Subcommittee for Legislative Relief, denied the hardship waiver requested by Kansas University wide receiver Justin McCay, making the sophomore ineligible to play during the upcoming season.
"Today we received notice from the subcommittee that they rejected Justin McCay's appeal to be able to play immediately," KU coach Charlie Weis said. "They informed our compliance officer that there wasn't that one catastrophic event evident to rule in his favor. I'm extremely disappointed that common sense did not prevail. I have read all of the information on this case, and it is a shame that this case resulted in a rejection. I cannot release all of the details of Justin's case as it would be an invasion of his privacy. I can only say that the University of Kansas felt the evidence was overwhelmingly in his favor. I also do not understand why the NCAA had us appeal this case to the subcommittee only to have received the same answer with the same rationale."
The news came after a highly publicized couple of weeks of waiting. On April 20, the NCAA informed KU officials and Weis that it would not give McCay the waiver, but, in the same breath, recommended that KU appeal the ruling.
After jumping through more hoops and filling out more paperwork, McCay filed his appeal on April 24. At that point, the subcommittee had a week to review the case, and, on Wednesday, the request was denied for a second time.
"This is a very disappointing day for me and my family," McCay said. "I was very hopeful throughout the process that I would receive a more favorable result, but unfortunately that is not how things turned out. I am so grateful to all of the people who worked so hard on my behalf throughout this process. First of all, I would like to thank the compliance staff at KU for all of the effort they put in to submitting my waiver request. I would also like to thank the athletics director at the University of Oklahoma, Joe Castiglione, for his assistance and support. Lastly, I would like to thank Coach Weis, the entire KU staff and all of my teammates in supporting me during this process. It was a long, difficult process, and I truly appreciate all of the support they gave me along the way."
McCay, a former five-star prospect from Roeland Park's Bishop Miege High who participated in the U.S. Army All-American game as a senior, signed with Oklahoma out of high school and red-shirted during the 2010 season. He played only sparingly last season and chose to transfer to KU at the start of the spring semester because of a desire to be closer to his family and his hometown.
Despite the ruling going against him, McCay said he would not change his path.
"I have no regrets," he said. "I am very happy to be at Kansas, and I am going to go out and work hard every day to be the best teammate I can be. Even though I won't be playing in games this year, I am going to take advantage of every opportunity I have to improve as a player."
McCay, 6-foot-2, 215 pounds, will sit out the 2012 season but will be allowed to practice. He will be eligible to play again in 2013 as a junior and will have two years remaining.
McCay was listed on KU's pre-spring depth chart as a second-string receiver, behind senior Kale Pick.
Spikes lands tryout with Saints
Former Kansas University offensive lineman Jeff Spikes has been invited to the New Orleans Saints' rookie camp, Spikes told the Journal-World on Wednesday.
The 6-foot-6, 325-pound lineman spent most of his time at Kansas playing tackle. After red-shirting in 2007, Spikes started 13 games during the 2008 season and earned a spot on Phil Steele's freshman All-American third team. In 2009, Spikes played all 12 games and started 10, two at right guard and eight at right tackle. He missed the 2010 season because of an injury to his Achilles tendon and returned in 2011 to start all 12 games at left tackle.
Spikes becomes the third member of KU's Class of 2012 to draw interest from an NFL team, joining teammates Steven Johnson (LB, Denver) and Tim Biere (TE, Kansas City), who each signed last weekend as undrafted free agents.
Spikes has not signed with the Saints yet but said he was looking forward to getting the opportunity to earn a spot at training camp.
"It's basically a job interview," Spikes said of his invite to rookie camp.
No takers for Hatch
Fellow offensive lineman Jeremiah Hatch, who, like Spikes, had started games on KU's offensive line since the 2008 season, said Wednesday he had not yet been invited to an NFL rookie camp.
Hatch, 6-3, 300, battled weight issues and injuries throughout his time at Kansas, and capped off his college career with 21 starts, including all 12 at center during the 2011 season. He was one of four team captains last season.