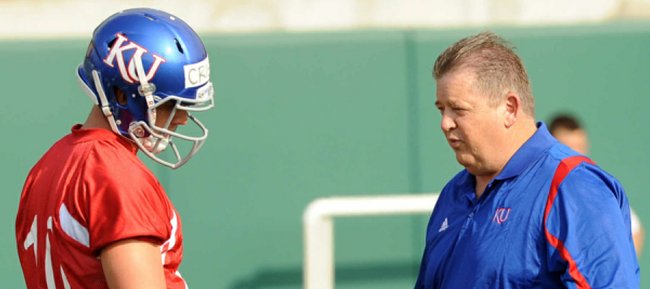 It may have taken Kansas University athletic director Sheahon Zenger 11 days to find new football coach Charlie Weis last December, but it took only about 10 minutes on Tuesday to comprehend how much Weis already had changed the culture at Kansas.
With the sun shining and temperatures soaring into the upper-70s, the KU football team took the field for the first day of spring practices Tuesday under the direction of its third different coach in the past four springs.
Unlike Weis' predecessor, Turner Gill, who opened practices with a smile and closed them with talk of enjoying the college football experience, Weis and his coaching staff got after the Jayhawks during their first official practice with the team.
Strength coach Scott Holsopple barked out orders, position coaches sternly encouraged players to pick up their intensity and Weis, hands-on at times and hands-off at others, kept an eye on everything.
"Rather than set specific goals, I think you have to have one general goal," Weis said when asked what he hoped to accomplish this spring. "Any time you come in as a new coach, rather than sling arrows at the previous staff, what you have to do is you have to break the team down and then build the team back up. That's what the offseason's been and that's what the spring is gonna be all over again."
KU's recent spring break marked the end of one of the most intense offseasons the program has endured. Weis designed it that way, and Holsopple ensured that the boss' wishes were carried out. Players lifted harder and ran more than ever before. Discipline was ratcheted up a couple of notches and players, both high-profile and under-the-radar, were held accountable for everything from reps in the weight room to test scores in the classroom. The new focus resulted in a team with a different mindset, more confidence and a greater understanding of what playing college football is all about. Weis said he was generally pleased with the production of his offseason program.
"It was very easy to get the players to buy in because they didn't have an alternative," he said. "It was either buy in or quit — those were their two choices."
Weis' first steps toward rebuilding Kansas football were not limited to workouts and academics. He also took seriously the relationship aspect of the gig, believing that, in order to get what he wants out of his players, he first must know the players and they must know him.
"I think the most grueling thing I did this spring was have interviews with every player, and it was a time- consuming task," Weis said. "But now when a player walks up to me, I know where he's from, I know his family situation and if he's in a serious relationship. There are certain things you need to know and insight you need to have or else you can't make proper value judgment."
One player whose interview likely was shorter than the rest is senior quarterback Dayne Crist, a Notre Dame transfer who once played for Weis and came to Kansas to do it again.
In addition to helping his head coach teach the offensive philosophy to teammates, Weis believes Crist already has emerged as a clear-cut leader.
"It's not just him as a player," Weis said of Crist, who currently sits atop KU's depth chart at quarterback. "He makes all of the other offensive players better, and every one of them will tell you the same thing. I'll tell you when you know a kid is special is the day he walks in and the players look at him as a leader and he hasn't even done anything yet."
With Crist in place, the offense figures to have a leg up this spring. Because of that, Weis said the coaching staff would throw more their way.
"We are going to put in as much as the offensive players can handle," Weis said. "We are going to put in a whole bunch of things, and we will judge it by how well we can mentally handle things during the spring. I have an installation schedule right up until April 28, but we do have huge holes where we can adjust things based on how well we handle everything. The more we can handle, the more we can do."
As for the defense, Weis believes defensive coordinator Dave Campo's approach will be a little simpler.
"I think the most important thing we need to do on defense is create a fundamentally sound defense," Weis said. "If you can't get lined up right and be fundamentally sound, you have no chance."
Prior to Tuesday's first practice, Weis released an early version of the spring depth chart. Nowhere on it did the word "or" appear and nowhere on it were players who had not proven themselves. The two-deep look on both offense and defense featured a heavy slant toward KU's more experienced players and Weis made it clear that the newcomers would have to earn their way onto it when they arrive this summer.
"I'm looking forward to them getting here," Weis said. "But the best thing about it is, without them here, it's a great opportunity for a limited number of guys to get more reps to kind of stake their claim to where they fall on the depth charts. The depth charts right now are very fluid."
As spring turns to summer and KU's roster takes shape, Weis' focus will not change based on the guys who stand in front of him. This spring is going to be tough; it's going to be demanding. In short, it's going to be everything Weis thinks football should be. He'll worry about the rest later.
"You need to have the team playing with confidence by the time you play a game," Weis said. "But now's not the time I'm worried about their confidence. I'm worried about them doing things the right way. I'm worried about them practicing the way we want them to practice, and I'm worried about them being fundamentally sound."
Weis and the Jayhawks will hit the practice fields for Day 2 on Thursday.