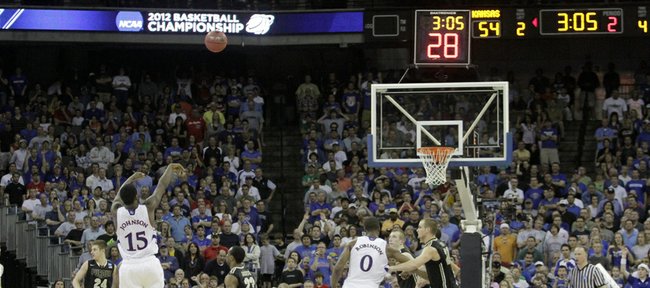 It won't go down in history as a shot as important as, say, Mario Chalmers' three-pointer against Memphis — one that forced overtime in Kansas University's 2008 national title victory over the Tigers in San Antonio.
But, if the Jayhawks do happen to win two games this weekend in St. Louis and advance to the 2012 Final Four ... Elijah Johnson's deep three in Sunday's 63-60 second-round victory over Purdue just might be recognized forever as the dagger that kept KU's postseason run alive.
"We pretty much approach everything in terms of character. I approached it in a good character way," Johnson said Tuesday, referring to the shot that erased a 56-54 deficit with 3:04 to play — handing KU its first lead of the game. "I was in a good mood no matter what. I was having fun. I was doing what I love to do. Why not take the shot? It was icing on the cake if you ask me," the 6-foot-4 junior from Las Vegas added.
His trey came early in the shot clock.
"Coach (Bill Self) always talks to us about, 'Players make big-time plays,' and trying to make them," said Johnson, whose steal and breakaway layup put KU ahead for good, 61-60, with 23 ticks left, Purdue actually regaining the lead after his huge three.
"I wasn't paying attention to the clock. There's time to play to the clock and time to just play. That was time to just play."
Johnson — he finished with 18 points on a day Thomas Robinson and Tyshawn Taylor combined for just 21 — said he relishes making plays during crunch time.
"I don't think I would necessarily say I want to take it (big shot). I've always been a guy that will take it. I'm not afraid to take it. I like taking it," Johnson said. "I'm not a guy to say, 'I'm going to play hero.' If I need to, I will. If it's in rhythm I will."
Johnson grinned when asked what Self said to him while watching a replay of the shot during Monday's film session.
"Coach didn't say, 'Elijah you've got to shoot that shot from now on, shoot it no matter where you catch it.' That wasn't the point. He just said it was a big-time shot. I think he liked that," Johnson said.
Self said Johnson, "did rise up and make a deep three when basically it wasn't game-point, but close to game-point. It was a big-time play because, for a guy who hadn't shot it well — I think he was 2-for-7 going into that shot (from three) — that's usually not a shot a guy takes unless he has great confidence. He certainly has great confidence right now.
"Everybody's been on him all year to be more aggressive. He's been terrific the last three games. He's played his tail off," Self added.
Johnson said he and his teammates take a positive frame of mind into Friday's 9:17 p.m. Sweet 16 game against North Carolina State at the Edward Jones Dome in St. Louis. He said the key to this weekend is, "bringing energy, not thinking we're tired. A lot of people are starting to think they are tired on different teams. I can tell. We are not tired yet.
"Some (on other teams) are starting to feel weak and vulnerable. We're getting close to the finish line. We want to be the ones to finish," Johnson added.
Tough match-up: No. 2 seed KU takes on an 11-seed in N.C. State.
"N.C. State has 11 in front of its name. Our guys know that doesn't matter. Everybody can play now," Self said. "To me, balance is always the toughest thing, and they've got balance."
Robinson honored: KU's Thomas Robinson on Tuesday was named first-team All-America by the National Association of Basketball Coaches. Joining him on the team: Kentucky's Anthony Davis, Michigan State's Draymond Green, Creighton's Doug McDermott and Ohio State's Jared Sullinger. Last KU player to be named first-team NABC All-America was Sherron Collins in 2010. Robinson leads the country with 25 double-doubles in 2011-12, which is tied for the KU single-season record set by Drew Gooden in 2002.
Recruiting: KU is hoping to land Tony Parker, a 6-9, 250-pound senior center from Miller Grove High in Lithonia, Ga. Parker, the No. 33-rated player in the Class of 2012 by Rivals.com, has officially visited KU, Duke, Memphis, UCLA and Ohio State
"The Jayhawk fans are probably the best fans I've seen," Parker told jayhawkslant.com. "I'm telling you, man, they're something special. Kansas is a school I'm seriously considering."
He has set no official date to announce his decision. It's possible he could announce sometime next week while in Chicago for the McDonald's All-America game.
Practice: The Jayhawks were to practice today, then board a charter bus at 2:30 p.m., for St. Louis. A shootaround that is open to the public will be held from 3:10 to 4 p.m., Thursday at the Edward Jones Dome.