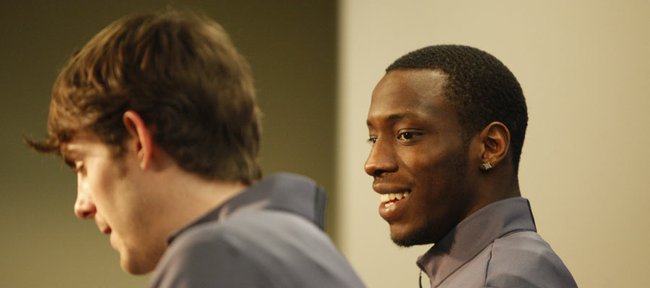 Kansas University basketball coach Bill Self on Sunday told his players to not expect a No. 1 seed in the 2012 NCAA Tournament.
"We blew that by not performing better in Kansas City," Self said of his pre-barbecue dinner message to the Jayhawks (27-6).
"We were on the 1 line, all that stuff. We needed to play better against Baylor, and we didn't," added Self, whose Jayhawks fell to the Bears, 81-72, in Friday's Big 12 tourney semifinals in Kansas City, Mo.
Calling himself a "numbers guy," Self correctly pegged KU's position in the NCAAs.
"I knew we'd be a No. 2-seed. I just didn't know where," he said, not shocked a bit when announcer Greg Gumbel revealed on the CBS-TV Selection Sunday show that KU had landed a 2 in the Midwest Regional.
The Jayhawks will meet No. 15 seed University of Detroit Mercy at 8:57 p.m. Friday at CenturyLink Center in Omaha, Neb. The winner will meet Purdue or St. Mary's at a yet-to-be-determined time Sunday (game time will be announced after Friday's games).
Two victories in Omaha would guarantee a spot in the Sweet 16 the following Friday in St. Louis. No. 3-seed Georgetown is a possible Sweet 16 foe; former KU coach Roy Williams' North Carolina Tar Heels are a No. 1 seed in the region and possible Elite Eight opponent.
KU was the highest-rated of the No. 2s, followed by Duke, Ohio State and Missouri.
MU is off to the West Regional, joining KU in Omaha for first- and second-round games with a Sweet 16 destination of Phoenix.
"You could make a real strong case that Missouri's record (30-4) and their performance through the course of the year would warrant a No. 1 seed," Self said. "You could make a strong case that Baylor could possibly have been a 2 (instead of 3). When you have six teams in your league (Iowa State 8, Kansas State 8, Texas 11) make it and a 2, 2, and 3 ... the committee showed us some respect. I don't think anybody in our league would be displeased with that."
KU senior Tyshawn Taylor said the Jayhawks wanted a No. 1 seed but are OK with 2.
In fact, the only reason the Jayhawks appeared to be somber when the announcement was made on CBS was that there was an eight-second delay on the TV feed.
In reality, KU's players did cheer after the announcement was made.
"We are exited, man," Taylor said. "This is a chance everybody (in the country) doesn't get. We won't take it for granted at all. We'll enjoy this time."
Of the Big 12 not being awarded a No. 1 seed, Taylor said: "I think if the No. 1 seed was going to go anywhere, it should have come here for sure. I don't think they (committee) disrespected us. If we would have beaten Baylor, we would have got it (No. 1). We put it on ourselves to get that No. 2 seed. It's not a bad thing. They did what they thought were the best four teams or most deserving teams (UNC, Kentucky, Syracuse, Michigan State)."
The Jayhawks will open in Nebraska — same place KU started its NCAA title run in 2008 — against Detroit's Titans, who won the Horizon League tournament and went 22-13 overall.
"You think of 2 and 15 in the past, you don't see Detroit being on that 2 line," Self said. "They are very capable. I've seen them play a couple times. I know their coach (Ray McCallum, Sr.) well. We recruited their best player (sophomore guard/McDonald's All-American Ray McCallum).
"They've got five guys averaging in double figures, and Ray is good enough to play anywhere. Certainly whoever guards him, Elijah (Johnson) or Tyshawn (Taylor) will have a big challenge ahead of them.
"We're excited to be where we are at," Self added. "I don't know if there's any advantage at all from being close (to home), but I'd think from a fan perspective Omaha with the potential of being in St. Louis would be good for everybody."
Self reminded the media that Detroit Mercy comes from "a league that just went to the national championship (game, represented by Butler) the last two years. It's a very competitive league."
The Jayhawks will drive to Omaha sometime Wednesday in advance of Thursday's open practice, set for 5:10 to 5:50 p.m. in CenturyLink Center, formerly known as Qwest Center.
Tough foe: Butler coach Brad Stevens had this to say about Detroit on Twitter: "There may never have been a 15-seed that looks like Detroit."
Great state: KU senior Conner Teahan, on the fact KU, Kansas State (8 seed in East) and Wichita State (5 seed in South) all made the NCAAs.
"I think that just talks about the universities we have in Kansas and the coaches and players. I think it's been a great year for not only us, but K-State and Wichita State, obviously. It is really good to see the state of Kansas doing so well. I think all Kansas people should be proud of that," Teahan said.
Tiger talk: Missouri will meet Norfolk State at 3:40 p.m. Friday in Qwest Center.
"It'll be interesting to see how we handle that because if you remember in '08, us and K-State were up there (Omaha) together," Self said. "That is one time our league kind of bonded, and we cheered for each other, which was good. I can't really see that happening (with teams in ) two different leagues right now. I guess Missouri is officially out of our league (joining SEC). In all seriousness, I thought Missouri played exceptionally well this weekend (in winning Big 12 tourney). I thought they were a really good team. They had some individuals play at levels that were probably about as high as anybody has played at that tournament, ever."