Podcast episode
Thomas Robinson talks to reporters after getting taken fifth overall by the Sacramento Kings in the NBA Draft on Thursday, June 28.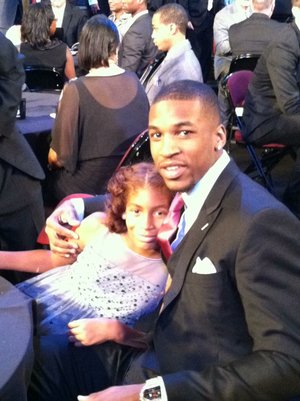 Newark, N.J. — Even though his name was called a couple of spots lower than he expected, the dip from No. 2 to No. 5 in Thursday's NBA draft at the Prudential Center did nothing to spoil the moment for former Kansas University forward Thomas Robinson.
Moments after hearing the Sacramento Kings make him their choice in the first round of this year's draft, the former KU All-American turned to his 9-year-old sister Jayla and paused. Words were not needed for the exchange between them. And words were not used.
"She just hugged me," Robinson said. "And it was the best hug in the world."
From that moment on, Robinson fought off the tears that he knew would come. At times, he stopped and let his emotions flow. Not even that made Robinson's first NBA moment the least bit sour.
"I made it," said Robinson, exhaling between sentences. "I mean, I made it through what everybody threw at me. I was just drafted into the NBA."
Joining the Kings caught Robinson by surprise. Throughout the week, he believed he would go a couple of picks higher — perhaps to Charlotte at No. 2 or his hometown Washington Wizards at No. 3 — and also had no idea he was even on Sacramento's radar.
"I really didn't know where I was going to end up," Robinson said. "I didn't work out for Sacramento at all. I probably talked to them once. But I'm here, so I'm meant to be here."
As for the fit, Robinson said he liked the landing spot because it would give him a chance to play next to Kings center DeMarcus Cousins, who, much like Jeff Withey at KU, takes up space in the paint and provides another big body for opponents to worry about. That should free up Robinson to do at least some of what he did with the Jayhawks.
There was more than the on-the-court aspect of Robinson's fit in Sacramento that made his night, though. The Kings and Jayla share a favorite color.
"She likes purple," said Robinson, his signature smile outshining the tracks of his tears. "And now I love it."
As for Jayla, she now has a new team to root for and was not afraid to show it. With a brand new Kings hat on top of her freshly done hair, the only little girl in the green room made her allegiances known.
"I love the Sacramento Kings," she said.
Asked for her feelings about the huge hug she shared with her brother, Jayla approved of that, too.
"It was goooooood," she said with an endless smile.
In being selected fifth, Robinson joined Wayne Hightower (also fifth, in 1961) as the fourth-highest KU draft pick of all-time. Danny Manning was taken No. 1 overall by the Los Angeles Clippers in 1988. A decade later, Raef LaFrentz went third to Denver. And, in 2002, Memphis took Drew Gooden at No. 4.
The Washington, D.C. native, became the 10th Jayhawk drafted in the lottery since 2000, which leads the nation.
"To think where he was when he came, and all the things he's been through, and to see that he is going to be able to provide for his family in ways he could only dream of going into this season is remarkable," KU coach Bill Self said. "I'm so happy for him, and I'm happy for Jayla."
Later in the draft, former KU guard Tyshawn Taylor was picked 41st by the Brooklyn Nets, by way of the Portland Trail Blazers, giving the Jayhawks 14 total selections under Self and seven total draft picks in the past three years. Two of those seven, twins Markieff (13th in 2011) and Marcus Morris (14th in 2011), were in the Prudential Center stands supporting their former teammate on Thursday night.
"I'm basically just real happy for him," Markieff said of Robinson. "He was texting me the whole time telling me he was nervous and I just kept telling him to stay calm and trust that he would be picked where he was supposed to be picked."
If that didn't work, the Morris twins had a little extra help from a woman very familiar with the arena's green room. Angel Morris, who vowed to look after Robinson and Jayla after the passing of Robinson's mother, Lisa, in early 2011, sat proudly at Robinson's table, just as she did a year ago with her own sons.
"It's special, man," Marcus said. "She's a strong lady, and she's been that way my whole life. She's always taken people in and tried to make their lives better. She's a mother — a great mother."