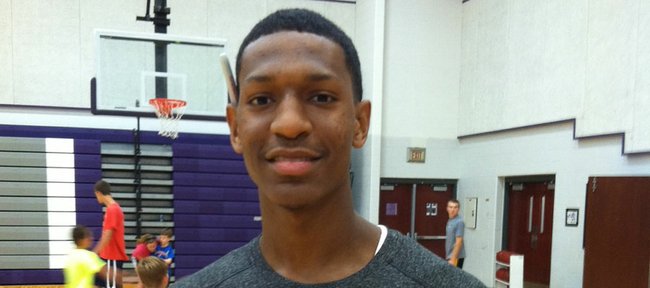 Overland Park — Approximately 100 KC Gym Rats campers huddled around Kansas University veteran basketball player Travis Releford and newcomer Andrew White late Tuesday afternoon at Blue Valley Northwest High School.
The grade schoolers proved they follow KU basketball recruiting as well as the actual games by requesting just as many autographs from 6-foot-6 Charlottesville, Va., freshman guard/forward White as fifth-year senior forward Releford.
White, in fact, served his three-hour stint as a camp counselor with a pen positioned behind his right ear, easy access available for all the signature requests.
"I've actually worked some camps in my hometown," said White, Rivals.com's No. 51-rated player in the recruiting class of 2012. "This is before I was committed (to KU). I wasn't as significant to those people as I am in this environment. I'm really enjoying it.
"This is my first time being in Kansas permanently," added White. He graduated from Miller School on May 26, and, one week later departed for Kansas with his mom, Sheryl, for the start of summer school and his college adventure.
"Just seeing kids, adults, everybody around the city in a Jayhawk shirt is great. I can tell these people really look up to me, and I enjoy working with them."
In fact, one of the main reasons White chose KU over North Carolina State, Louisville, Virginia Tech, West Virginia, Richmond, Texas, Georgetown and others, is the interest of the KU fans.
"I think one of the most amazing things is walking to the local stores and seeing all the Jayhawk gear. That's a big change for me. I'm getting used to it quick," White said.
He's already getting used to sharing his space. His Jayhawker Towers roommate is Zach Peters, a 6-9, 240-pound freshman from Prestonwood Christian Academy in Plano, Texas.
"He's a big guy, a real big guy," the 205-pound White said with a smile. "He's a great kid. The good thing about Kansas is you don't just see players from Kansas. We are very spread-out, diverse. That's what makes it enjoyable, getting to know people from all over."
The summer is about getting acquainted with his new teammates, campus and Lawrence.
"This is a great opportunity to get adjusted," White said, "getting to know everybody and starting to work on my game. I want to progress at the highest rate possible and being on campus is the best way to do that. There are some differences. It's flat here, not as many hills as Virginia. But being in this small town, the fans here are amazing. I'm going to enjoy being here."
Releford said the Jayhawks are happy to have White aboard.
"I've not gotten to get to know him too well because he just got on campus, but he seems like a great kid," Releford, a native of Kansas City, Mo., said of White, who averaged 22.9 points and 10.0 rebounds a game a year ago for 20-10 Miller School. "We've got a bunch of good guys coming in, guys capable of playing right away. It'll be good for us."
As far as where he'll help out on the court, White said: ""Two guard and maybe a little three, whatever I have to do to contribute. It's in my coaches' hands and I'm going to give my best."
He admits he'll miss his mom, who is a professor at J Sargeant Reynolds Community College in Richmond; dad, Andrew, who is a housing developer and brother, Andrien, a freshman basketball standout at Miller School.
"He's on track to do some good things. Look out for him. He could be making a little noise sooner or later," White said of his brother.
Recruiting: Markus Kennedy, a 6-9, 260-pound forward, who has decided to leave Villanova after one season, has KU on his list of schools, Jon Rothstein of CBS reports. Kennedy, a former Brewster Academy player who is from Philadelphia, also is considering LaSalle and Temple. He averaged 3.0 points and 4.4 rebounds in 14.8 minutes a game last season. ... Nothing is new on the recruiting front regarding Milton Doyle, a 6-4 senior guard from Chicago's Marshall High. It is believed Doyle, who decommitted from Florida International following the firing of Isiah Thomas, will become a Jayhawk scholarship player as long as he qualifies academically. He has scheduled no other campus visits following a mid-May trip to KU and has no other schools on his list. He and his mom are not commenting on his recruitment as they await word on his eligibility.