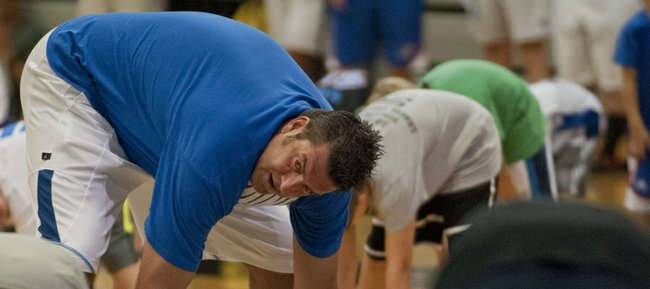 Olathe — For reasons he could not have expected when he made the schedule, former Kansas University center Cole Aldrich missed the opening day of his basketball camp Monday at Olathe Northwest High.
But while the third-year pro was busy playing for Oklahoma City's summer league squad in Orlando, Fla., a handful of current and former Jayhawks were in Olathe holding down the camp.
Senior-to-be Travis Releford teamed with former Jayhawks Mark Randall and Jeff Gueldner to run more than 100 campers through a day of drills, instructions and various camp games. For Randall, a former first-round pick of the Chicago Bulls, helping Aldrich out was a no-brainer.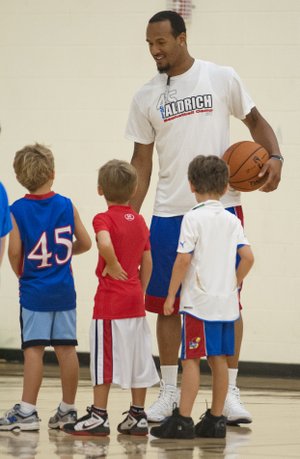 "He gave us the heads-up that he wasn't gonna be here today, and that's just how it works," said Randall, recalling his days a pro. "If they say you're gonna be in camp, you're gonna be in camp. He's not playing a ton with Oklahoma City, and he has to be able to show them that he's worth investing in. And if it doesn't work out in Oklahoma City, he's gotta show someone else that he can play. So it's a necessity for him. It's horrible timing. But he could never have known this was gonna happen."
Camp officials said Aldrich was bummed about missing opening day of the camp that bears his name and was still holding out hope that he could get back to town at some point before camp closed Thursday.
During Monday's summer league opener, Aldrich started and played 31 minutes in the Thunder's 73-65 loss to the Celtics. He scored one point, grabbed seven rebounds and blocked a shot.
In the meantime, Aldrich lined up a pretty stellar lineup to fill the void. Randall and Gueldner are scheduled to be at camp every day, and former Jayhawks Brady Morningstar and Tyrel Reed are expected to pop in as often as possible. In addition, one member of KU's current roster will be on site each day.
"We do these camps all summer, so it's a lot of fun," Releford said. "I enjoy doing this."
Freshman Perry Ellis will be in the gym today, senior center Jeff Withey will take his turn Wednesday, and sophomore point guard Naadir Tharpe will finish things off on Thursday.
Releford on newcomers
Asked about the new crew of Jayhawks in town, Releford smiled and said he was looking forward to playing with all of them.
"It's a whole new team, different faces, different personalities," he said. "And it's been a lot of fun just getting to know all of those guys."
Although he has had limited time with most of them, Releford said he thought the newcomers could help KU.
"All those guys are humble," he said. "They listen, they ask questions, and they're just ready to learn, so I think it's gonna be a fun year."
Challenging?
"A little bit, for sure," he said. "But coach will get it together."
Self homer
Speaking of his coach, Releford was not in attendance at Sunday night's all-star celebrity softball game at Kauffman Stadium and, therefore, did not see the home run hit by Bill Self.
"I just heard about it today," Releford said. "One of the kids was telling me about it. I was a little surprised at first."
Randall on return
Randall, who still works in community-outreach endeavors for his hometown Denver Nuggets, said he jumped at the chance to come work Aldrich's camp for one reason.
"I want to try to get back to Kansas as much as I can," Randall said. "And this gives me a great excuse to come back and spend time with young people and see some of the guys I don't get to see."
With the Jayhawks no longer heading into his home state of Colorado on an annual basis, the 12th leading scorer in KU history said opportunities like the one he's enjoying this week became all the more important.
"I still get to see the team every now and then," Randall said. "But it's cool to come back and spend time with them."