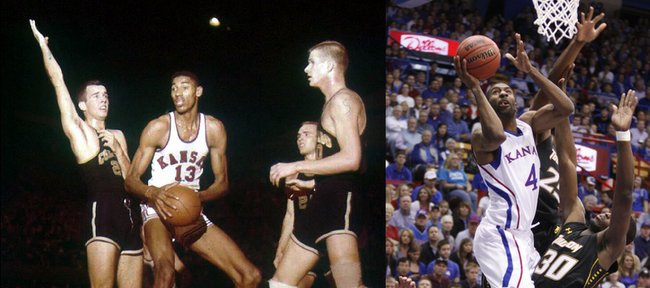 It's only natural that when watching a college basketball player, the mind drifts to a name from that school's past he recalls. When Kansas University forward/center Justin Wesley goes to the free-throw line, Wilt Chamberlain comes to mind.
Wesley now is linked in a much more meaningful way to the greatest athlete in KU history. Provocative Lawrence filmmaker and KU faculty member Kevin Willmott has cast Wesley in the role of Wilt in a project that originally was going to be a biography, but since has grown into a more focused look at, in part, Wilt's cultural impact on Lawrence and KU.
"We made it more about chancellor Franklin Murphy and Phog Allen and all the things that happened around the story of bringing Wilt in to KU," Willmott said. "In some ways it makes it easier for Justin to play him because it's not a bio pic about Wilt. When you call a movie 'Ray,' they expect you to do a damn good impression of Ray Charles. This is about a very interesting moment in KU history and Lawrence history, when the early parts of civil rights moments were directly connected to a lot of changes happening in sports."
Willmott's film will highlight how Wilt's presence and chancellor Murphy's grand plan played a big role in eroding segregation in Lawrence. Having a current KU athlete play Wilt makes nice frosting on what should be a tasty cake.
During a gap in Julian Wright's professional basketball career, Willmott had considered having him play Chamberlain, but that possibility died when Wright resumed his career in the NBA Developmental League.
It was after that, Willmott said, that KU basketball coach Bill Self suggested Wesley. Independent of that, Scot Pollard also suggested Wesley. Pollard is contributing to the project by offering insights on the 1950's style of play and the "big-man persona," Willmott said. "One of the things the movie deals with is what it's like to be a big guy in the 1950's when people weren't used to seeing exceptionally tall people."
Screen Actors Guild members will get paid $100 a day for the low-budget film and after checking with KU and NCAA compliance people, it was determined Wesley could partake as long as he works for the same wage.
"He resembles Wilt in body type and facially and with a few camera tricks we can make him look a little taller," Willmott said. "Justin is an articulate young man and he's got a calm vibe about him. So much of when you're casting someone who is not an actor, it's about being yourself as this person in this situation. The problem is people want to start acting. 'Don't do that!' (The role) is more about leaving home, coming to a new place, playing basketball, nothing Justin doesn't understand."
Wesley is scheduled to begin about two weeks of work when the team returns from its European trip in mid-August.