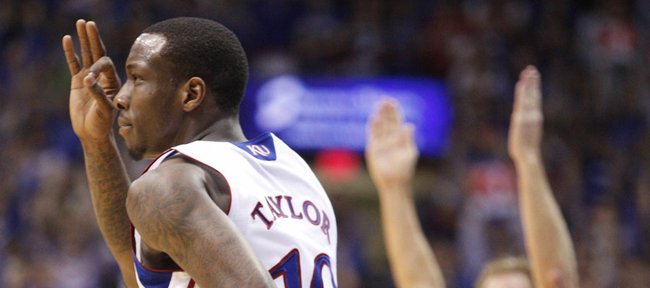 Kansas University senior point guard Tyshawn Taylor was named co-Big 12 Player of the Week on Monday — with Baylor forward Perry Jones III — by a panel of media covering the conference.
Taylor, 6-foot-3 from Hoboken, N.J., captured his first player award after winning Rookie of the Week honors four times during the 2008-09 season.
Taylor averaged 21.5 points and 5.5 assists in victories against Texas Tech and Iowa State. He had a career-high 28 points (22 in the second half) off 10-of-21 shooting in the Jayhawks' 82-73 come-from-behind home victory over the Cyclones. He had 15 points and five assists in a 81-46 rout of the Red Raiders in Lubbock, Texas.
KU players have won or shared the award in five of 10 weeks this season. Thomas Robinson has been player of the week three times and Travis Releford once.
No controversy this year: Baylor coach Scott Drew kept his team on the court for KU's pregame video and player introductions prior to Monday's game.
Two years ago, there was controversy when Drew led the Bears through the southwest tunnel for pregame instructions while the video blared and the Jayhawk starters were introduced.
Monday, the Bears players met with their arms around each other in front of their bench as the video played. During KU player introductions, the Bears broke out of the huddle and stood by the bench.
"We'd have never done that (before KU's 81-75 win two seasons ago) if we had known it would draw so much attention because the attention should be on the game," Drew said prior to Monday's game on the Big 12 coaches call. "We were doing that so we could communicate what we wanted to do at the beginning of the game, but by no means did we want to be disrespectful, so we won't be doing that again."
BU blossoming: KU coach Bill Self said he's impressed with Drew's work (144-117 after Monday's game) in nine years at Baylor. The Bears reached the NCAA Elite Eight in 2009-10.
"It's easier to have a good team or a great team than it is to have a program. Anybody can get lucky. What they have been able to do is do it over time," Self said. "I think it (BU program) is here to stay. I think they've developed a program. They are recruiting players on top of other good players. When you can do that, usually it (program) is sticking around to stay. He and his staff have done a great job of recruiting. They are in on elite players on a regular basis. It's a tribute to he and his staff."
Holiday basketball: Self said his players understood the significance of playing on Martin Luther King Day.
"There are so many people in history who made so many sacrifices so we can have better lives and he was most certainly one of them," Self said on his pregame Jayhawk network radio show. "(Including) our military from different generations and today. Few individuals have impacted the world like Dr. King. He paved the way for people to live a life everybody deserves to live. That is far more important than a game. But to think we can someway honor him by playing basketball is cool."