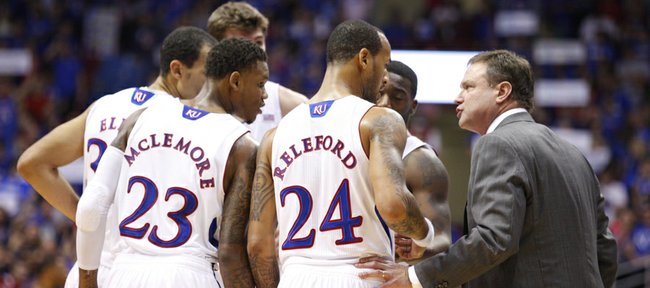 Those Kansas University basketball fans who fear match-ups against mid-majors might feel jittery entering tonight's game against one of the best of the bunch — Belmont University.
"I'm telling you, they could beat us. If Belmont played in our league, they'd have success. They would," said KU coach Bill Self.
His Jayhawks, who have won 59 consecutive nonconference games in Allen Fieldhouse, have lost just three non-con home games in 10 seasons — to mid-majors Richmond, Nevada and Oral Roberts. They've suffered just four conference losses in that same span. KU lost to mid-major Davidson last season in Kansas City, VCU in 2010-11 in San Antonio and Northern Iowa in 2009-10 in Oklahoma City.
Before dismissing Self's words of caution as "coach-speak," take a look at a few reasons he and his (7-1) Jayhawks enter today's 6 p.m., home game with a healthy dose of respect for the Bruins (7-2), who beat Stanford, 70-62, on Nov. 18.
Ranked eighth in the latest mid-major Top 25, Belmont has hit 82 of 195 three-pointers for 42.1 percent. KU conversely has made 43 of 137 threes for 31.4 percent. Senior guard Ian Clark, who played in an 81-51 loss to KU on Dec. 29, 2009, in Allen, has cashed 38 of 68 threes for an unheard-of 55.9 percent. He averages 18.9 points a game, while senior guard Kerron Johnson averages 14.2, senior forward Trevor Novak 10.9 and junior forward Blake Jenkins 10.4. "They can stretch it," Self said of the team coached by Rick Byrd, who is in his 27th season at Belmont and ranks seventh among all active NCAA Div. I head coaches in career wins (644).

KU and Belmont are the only two programs in the country to win 12 or more conference games each of the last 10 seasons.

Belmont, formerly of the Atlantic Sun Conference, now of the Ohio Valley, has won 10 conference titles (five tourney, five regular season) since 2006, trailing only KU (12 titles) nationally over that span.

Only Belmont, KU and Memphis have earned five or more automatic bids to the NCAAs in the last seven years.

Kenpom.com has deemed the Nashville, Tenn., school the best opponent to visit Allen this season. The Bruins are ranked No. 23 in stat analyst Ken Pomeroy's rankings, one slot ahead of Oklahoma State and two slots ahead of Kansas State.
"This is a good RPI game for us, without question," Self said, aware the the Bruins have gone 30-5 and 27-8 in successive seasons. "They've got a great coach (Rick Byrd). They're kind of unique, in that, like a lot of schools that aren't from BCS conferences, you can't go out and get four big guys. So they play threes at the four and twos at the three."
Belmont has no starter taller than 6-foot-7.
"So, that means they can stretch it from all spots and definitely create some potential match-up situations if we don't guard them right," Self said.
Belmont, which has defeated Stanford, Lipscomb (twice), Maryville, Alaska Anchorage, Oral Roberts and Middle Tennessee and lost to VCU and Northeastern, hit just four of 16 threes in Thursday's 64-49 win over Middle Tennessee, which made three of 16.
"We know who they are," KU senior Kevin Young said of the Nashville, Tenn., school with a school enrollment of 6,637. "We know they can play."
A key for KU lately has been the Jayhawks' full-court man-to-man pressure defense.
"I think it might be tougher (to press). They've got more shooters. We've got to get back to them as quickly as possible," Young said.
Press or no press ... the Jayhawks must come out active, Self indicated. He was pleased with the effort in the last game — Saturday's 90-54 home rout of Colorado.
"I think the biggest reason (KU played well) was energy level. I think the place was juiced and our guys fed off of that," Self said. "I think they played like they were having fun. I really believe that Travis (Releford) and Kevin keyed that whole thing from an energy standpoint. They were really good."
The energy level has not been up to par in some games, Self said.
"If you look at our personalities of our team, really Kevin (Young) is the only one that has natural energy," Self said. "The other guys are just out there. You lose Thomas (Robinson) who had that and you lose Tyshawn (Taylor) who had that. The (Morris) twins brought that and Sherron (Collins) brought that. We just don't have those types of personalities that we've had in the past that are just natural guys that basically feed other guys' emotion or energy."
Young is looking forward to a repeat of the Colorado game from an energy standpoint.
"It starts with me bringing a lot of energy and hopefully we'll have the same kind of intensity from the crowd and what they brought to it," he said.
Self hopes the fans are in a festive holiday mood.
His Jayhawks have won 26 consecutive games in Allen, the last nonconference loss to ORU way back on Nov. 15, 2006.
"Let's be real. We've got 16,000 people at every game. They want to get excited. So, we've got to do some things to help them get excited," Self said. "That (the Colorado game) had a conference feel to it. That was our first real game at home – so to speak, from a fan's standpoint."
KU, by the way, plays another scary mid-major in Richmond at 6 p.m., Tuesday, in Allen. Richmond beat KU, 69-68, on Jan. 22, 2004, in Allen.
How 'fro can you go?: Young has been asked a lot lately about his expanding afro hair style.
"It was longer when I was at Loyola, just a little bit, though," he said of his two years at Loyola Marymount.
How long will he let it go?
"Until coach says enough is enough," Young said. "Hopefully not anytime soon, though. I'm still trying to catch Jeff," the 6-8 Young said of stretching to 7-feet. "Just a couple centimeters off."
Big man from UCLA on KU radar: Former UCLA center Josh Smith is considering transferring to KU, Georgetown or Washington, CBSsports.com reports. Smith, a 6-10, 305-pound McDonald's All-American from Kent, Wash., recently left UCLA's team a few games into his junior season. Smith, who averaged 10.9 points and 9.9 points in 2010-11 and '11-12, averaged 5.2 points and 4.2 rebounds this season in limited duty. Smith, who has had problems with his weight and would likely be interested in Andrea Hudy's KU program, would not be able to play until second semester next season. He was the No. 23 rated player in the Class of 2010. He had 17 points and 13 boards in a 77-76 loss to KU on Dec. 2, 2010 in Allen. He had one point and one board in 13 minutes in a 72-56 loss to KU last season in Maui.