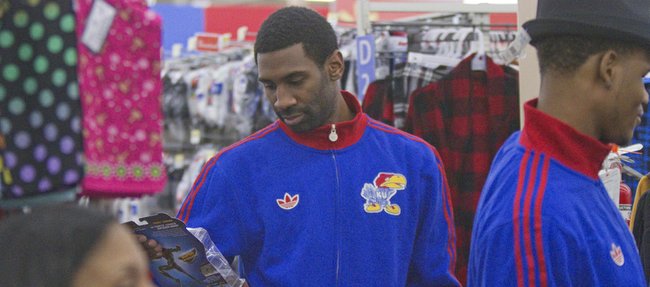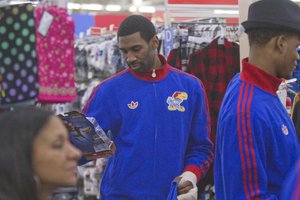 Kansas University junior basketball forward Justin Wesley broke his left pinkie finger at practice Thursday and will miss approximately three weeks of practice and games, coach Bill Self said Thursday night.
Wesley, a 6-foot-9 reserve forward from Fort Worth, Texas, hurt his finger scrambling for the basketball. Wesley wore a cast around the outside two fingers of his left hand during Thursday's holiday shopping excursion at Wal-Mart. Wesley has scored five points total and grabbed 10 rebounds while playing 35 minutes in six games this season.
Ellis finals finished: Wichita Heights Class of 2012 valedictorian Perry Ellis headed to basketball practice Thursday afternoon with a burden lifted from his shoulders.
Ellis, now a KU freshman, had finished his first-semester final exams.
"My last one was this morning. I'm pretty excited about that," Ellis said.
"We've got to do a lot of basketball stuff and other things you've got to do in college, so it makes it tougher here," added Ellis, who reports, "I got a couple A's, couple B's, I think, so that's pretty good."
The 6-foot-8, 225-pound McDonald's All-American, who also aced a pair of classes at KU last summer, figures to be one of the Jayhawks to benefit the most from an upcoming month between semesters with no classroom responsibilities.
"Perry's minutes are going to continue to go up if he keeps trying to get out of his comfort zone to be aggressive," Self said of Ellis, who has averaged 5.9 points and 3.6 rebounds in 16.1 minutes per game heading into Saturday's 6 p.m. home game versus Belmont. "He has certainly done that in practice. He cares. He's conscientious."
Ellis, who has scored just 14 points in KU's last four games, had 15 in KU's season opener versus Southeast Missouri State.
"He played pretty well against Colorado (Saturday), but he had two points and one rebound. He was more aggressive in some ways. It just didn't fall that day," Self said.
It's all a learning process, and Ellis has been a sponge.
"The key thing is being aggressive at all times," Ellis said. "I think too much when I need to react and play."
KU senior forward Kevin Young said Ellis, "is very talented. We all know it out there, on the court, in the stands. He's a good kid. He's hard to guard (in practice) just because he knows how to score. He's just hard to defend."
McLemore excels: KU red-shirt freshman Ben McLemore leads the team in scoring (16.0 ppg) and is third on the team in rebounding (5.6)
"Wait 'til he gets comfortable. That's kind of how I look at it," Self said at Thursday's weekly news conference. "I'm not so hung up on points as I am being a good player, and he's becoming a much better player as we go. He's learning how to be aggressive while being unselfish. Hey, he's one of the premier players in our league Day One, with a chance to be one of the very elite few in our league. I really believe that."
Brown update: Larry Brown's first SMU team is off to an 8-1 start heading into Saturday's game at Rhode Island. Self, who speaks with former KU coach Brown regularly, shared a story about Brown's return to the recruiting trail last summer after many years in the NBA.
"First time I saw him was for an 8 a.m. game — 8 a.m. games, nobody likes going to them," Self said. "I get there at 7:59, just in time, and he's off on his own. I saw him and said, 'Coach, (are) you too good to sit with us, coaches?' He said, 'No, I have to have a chair. I can't sit in the bleachers.' I said, 'If I were you, I'd make your assistant carry that chair to every game you go to today,' as a joke. He made his assistant carry the chair every game he went to. I thought that was pretty funny because nobody does that."
"I think after doing it as long as he has, he deserves the right to sit in a chair rather than bleachers," Self added of the 72-year-old Brown.