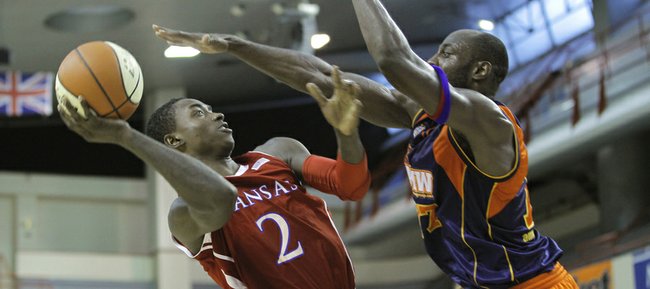 Paris — Kansas University coach Bill Self already knew winning without four potential starters was going to be difficult Sunday.
That task became nearly impossible when AMW Team France's Kevin Seraphin decided to elevate his game late.
The Washington Wizards forward — and 17th pick in the 2010 NBA Draft — dominated during a crucial stretch, helping to lift Team France to a 79-60 blowout victory over KU at Stade Pierre de Coubertine.
"In the second half," Self said, "he showed that he's a man."
KU trailed just 51-50 with a minute to go in the third quarter before Seraphin took over.
The 6-foot-9, 275-pound forward scored seven points during a 19-2 run over the next five minutes that turned a close game into a rout.
Seraphin, who didn't play in the two teams' game Saturday, finished with 16 points on 6-for-8 shooting.
"I was just chilling at my house, and my friend told me there they've got a game against Kansas," said Seraphin, who averaged six points and three rebounds for France's national team in the Olympics earlier this month. "I said, 'OK, let's go. Let's play.'"
Self went without seniors Elijah Johnson, Jeff Withey and Travis Releford, saying he wanted to get his young guys more experience. Another potential starter, Ben McLemore, also didn't play because of a nagging groin injury.
Though that left the Jayhawks with just one scholarship upperclassman — senior Kevin Young — they still managed to take a 34-31 lead into halftime.
"We were just competing," KU freshman guard Andrew White said. "That competitive edge and defending, that'll hold a team in the game that's missing their three star players."
It didn't keep the Jayhawks in it the whole game, though, as Seraphin's inside presence contributed to the French making all seven of their two-point attempts in the fourth quarter.
KU didn't help itself offensively, making just 9 of 39 second-half shots (23 percent) with 12 turnovers.
The Jayhawks ended up with 26 giveaways.
"Offensively, we're not very good. And we turn that sucker over at an alarming rate right now," Self said. "Our newcomers are unbelievably poor at taking care of the basketball."
The loss was the Jayhawks' second straight defeat after not losing an exhibition game since 1995.
KU also fell to AMW Team France, 74-73, on Saturday.
"Our veterans need to really step up, because there's no reason why we should have lost back-to-back games," Self said. "Tonight's a little bit expected, based on the personnel, but last night was inexcusable."
Perry Ellis led KU, scoring 16 points on 6-for-9 shooting to go with 12 rebounds in 24 minutes.
Still, Self believed the freshman forward had the potential to play better.
"He's a guy that, to me, his talent level is so high that he's just got to be more aggressive all the time," Self said. "If he's not aggressive, then obviously, he doesn't play to his talent level — to what I think it is.
"Because he's one of those guys that gets 16 (points) and 12 (rebounds) in 20 minutes, and you think he should have had 25 and 16. So he'll get better at that. He's improved a lot since he's started."
Andrew White added 15 points on 5-for-13 shooting from the floor and 3-for-7 shooting for three.
The freshman guard White led KU in scoring average on its exhibition trip, posting 11 points per contest.
The Jayhawks ended their European exhibition tour with a 2-2 record.
"I think, if anything, it tells us how hard we need to work, because we're not very good right now," Self said. "I'm not sure anybody's any good in early August, but we're certainly not."
The team will spend one more day in Paris before returning to Kansas on Tuesday.