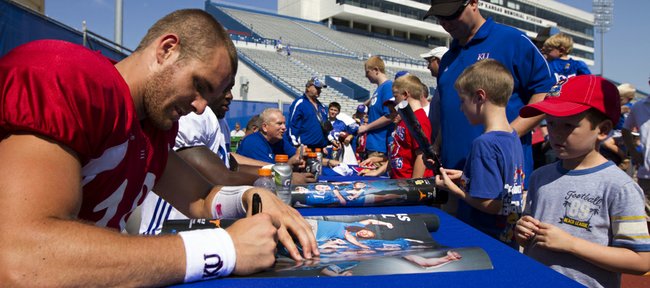 One by one, Kansas University football fans filed through the longest of the autograph lines that lined the Memorial Stadium track after Saturday's open practice, all with the idea of meeting one player — quarterback Dayne Crist.
Crist, who moments earlier had led the KU offense through what he called a practice full of "consistency," sat upright in his red No. 10 jersey and said hello to all of them. From young fans with footballs to grown men who just wanted to meet him, Crist was showered with love throughout the 30-minute meet-and-greet.
"I just want to shake your hand," said one man who had nothing to sign.
"Thanks for being a Jayhawk," another lady sheepishly uttered. "We're glad to have ya."
"Dayne got a lot of love, but I expected that," senior co-captain Toben Opurum said. "He deserves it. He's a great player, and he just does things the right way. A lot of people wanted to welcome him to Lawrence, a lot of Notre Dame fans in Lawrence."
Crist came to Kansas to play football, of course. He came to play one final season under the coach he committed to as a senior in high school and for one final shot to prove that he has what it took to lead a Div. I offense.
But he came for all of this, too.
"It's exciting, and it's flattering," Crist said. "And I feel bad that I wasn't able to get to everyone that came out because I'm really appreciative for them coming out today. The people here are so warm and receptive to myself and the team. It's great, it's encouraging, and we play for them."
For two hours Saturday morning, that was exactly who the Jayhawks played for, as their normal practice routine took place under the eyes and ears of 300 or so KU football fans. For the most part, practice went the way it would have gone if the stands had been empty. Players worked, coaches yelled, performance was critiqued. But Crist, Opurum and fellow co-captain Tanner Hawkinson all said adding the live audience added a different element to the day's work.
"It's so much more fun when you've got stands that are full," Crist said. "It simulates more of a game atmosphere, and that's what you do all of the hard work for."
Added Opurum: "I think the guys did a really good job today of keeping their focus and not wanting to do too much for the crowd out there. We kind of stayed focused on what the practice was gonna be like, and I think guys did really well today."
Crist was one of those. During the seven-on-seven drill, in which KU's offense ran live plays against linebackers and defensive backs, Crist completed 11 of 12 passes, including a deep touchdown hook-up with senior wideout D.J. Beshears. The one incompletion probably should have been caught, and KU coach Charlie Weis let the receiver hear about it.
But Crist did not use that as an excuse.
"I think there was a great deal of consistency, and that's huge," he said. "Any time you're trying to run an efficient offense, consistency's key. You gotta be able to string drives together, string plays together, and I think we did a good job of that today. I think we went 11-of-12, which was nice. We just gotta keep that up. It can't be something where that's the end-all. It's something to build on. You know, we weren't 12-for-12."
Tre bien
Freshman wide receiver Tre Parmalee was one of the top performers Saturday, and he shined the brightest during live action. On the final play of seven-on-seven drills, Parmalee caught a wide-receiver screen from quarterback Turner Baty, made one quick move and then raced to the end zone untouched. A few minutes later, he added to his highlight reel with a punt return and a kickoff return for touchdowns.
"Tre's turned into a great football player," said Crist, who remembers Parmalee running around the field at Notre Dame when his dad, Bernie, was the tight-ends coach there. "He's incredibly motivated. He's a freshman that's not scared to compete, and (he's) trying to make his case that he should be playing."
Asked if seeing the young guy in his huddle made him feel a little long in the tooth, Crist was honest and then took a jab at a former Notre Dame teammate and fellow current Jayhawk.
"It makes me feel real old," he said. "But it probably makes (senior tight end Mike) Ragone feel even older."
Praise for Pick
While Crist said he had faith in all of KU's wide receivers, he made a point of singling out senior wideout Kale Pick.
"Kale's been having a great camp," Crist said. "I think all the receivers have done a good job of making plays, and I'm very confident in all the receivers, but some of the things Kale has done athletically have kind of exceeded the expectations that I had for him. (He's made) some plays when you watch on film you really wow at 'em a little bit."
One such catch came on the third play of seven-on-seven drills, when Pick climbed the ladder in traffic to come down with a rocket thrown by Crist.
Sizemore injured
Junior fullback Nick Sizemore came away from Saturday's practice with a boot on his left foot and crutches under his arms. Asked by teammates what happened, Sizemore simply said, "I broke my foot."
The Jayhawks should know more about the severity of Sizemore's injury next week.