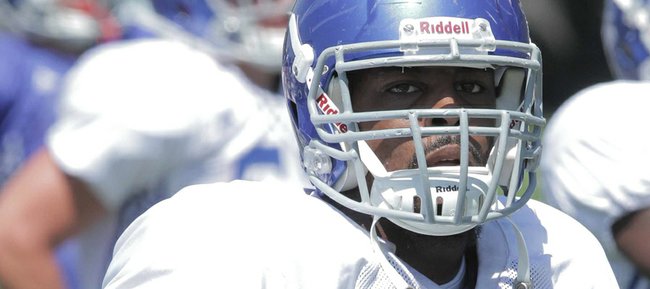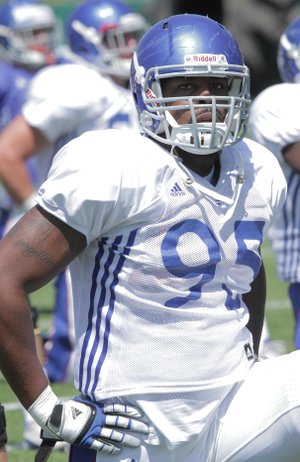 When Josh Williams reached the end of his rope with the Nebraska football program, he had no idea what was next.
"Disturbing" is the word Kansas University's fifth-year senior transfer used to describe the feeling of uncertainty that came after his dismissal from the Cornhuskers last January. But while trying times tested his mental toughness, Williams said he never worried about getting another chance.
The opportunity that followed was better than anything he imagined.
"I figured I would go somewhere and play," he said. "But I didn't know that it would be under coach (Charlie) Weis and coach (Dave) Campo here at Kansas."
Once KU became involved, things moved quickly.
Weis was brutally honest with Williams when the two first talked. The first-year KU coach explained to Williams there were guidelines and insisted there would be rules but added that, if Williams toed the line, the reward could be great, and he could once again be on the path to realizing his goal of playing in the NFL.
"That's a big positive," Williams said. "But more than their connections and experience, I think the knowledge they can teach me was big, as well."
When the time to say yes to Kansas presented itself, Williams said he went for it immediately and did not consider the make-up of KU's roster or the situation he was leaping into.
"That wasn't really much of a thought of mine," Williams said. "Wherever I was gonna go, I knew I was gonna give it my all and do my best. When I talked to them, the coaches said I had an opportunity to come in and help this team, so I jumped on that ship."
Since then, it has been smooth sailing for the 6-foot-4, 255-pound defensive end originally from Shreveport, La., who starred at Ryan High in Denton, Texas.
He is listed as a starter on KU's most recent depth chart and has become a leader in practice.
"What I've seen so far, I've liked," said KU defensive line coach Buddy Wyatt, who recruited Williams to Nebraska out of high school and was instrumental in making the connection this time around. "I think he brings some experience and some confidence to our meeting room. And when we go out there on the field you can hear him making some comments about, 'Watch this,' and, 'Look out for this,' and those things really have helped our unit become better."
Added Campo: "I know he's a good football player. I'm happy he's here. You can tell he's a fifth-year senior that has aspirations of playing beyond here."
Williams, who played his first snap at defensive end back in middle school and has loved every snap since a little more, credits the KU players for making the transition so painless.
"I think I did need a change of scenery," he said. "And it's helped out a lot. It's been great being with these guys. They've accepted me and taken me in, and I really just want to be there as a leader for them."
That's the area in which Williams has focused much of his time so far in preseason camp. After playing in 26 games — including two starts — with Nebraska during the past two seasons, the former Husker believes he has something to offer the KU program. And even though he will only be here for one year, Williams said he already feels like a part of something special.
"It's my senior year, it's my last year, and this senior class wants to go off with a bang," he said. "We'll be the start to that build-up."
As for his own personal goals this year, Williams said he would let his play speak for him.
"I just want to go out and have a big year," he said, "just go out with a bang and have the best year that I can have."
Toben the talker
KU D-line coach Buddy Wyatt said Monday that co-captain Toben Opurum so far had been a lot louder in this year's camp than during previous seasons.
"Toben's a good leader, but I think (senior transfer) Josh (Williams) has helped him as well," Wyatt said. "Toben has been more vocal this camp. The team voting him a captain has made him step up and say, 'Hey, my teammates are counting on me so I need to do what I need to do to help them be as good as we can be.'"
4-3 fun
Asked what the ideal scheme for KU's defense would be, Wyatt said the early part of preseason camp had been spent on one style.
"We've been playing a four-down (system) so far," Wyatt said of the defensive set that utilizes four down linemen. "In this league … we want to be able to use several different looks up front, but right now we've only been practicing our four-down stuff."
How's it coming?
"We look pretty good," Wyatt said. "We're starting to get an idea of how we need to play, techniques and things, to go with a four-man front."
Stowers shining
While a lot of the offseason attention has been on the two defensive linemen who have not yet made it to campus — Wyatt had no update on the arrival dates for Ty McKinney or Jordan Tavai — KU's defensive-line leader shifted his focus to one who had — juco defensive tackle Keon Stowers.
"He comes to play in practice every play," Wyatt said. "I just love being around him. You can look in his eyes, and when I'm up there talking to the group, I can just feel him burning a hole in the back of my head. He just takes everything in, he's soaking everything up."