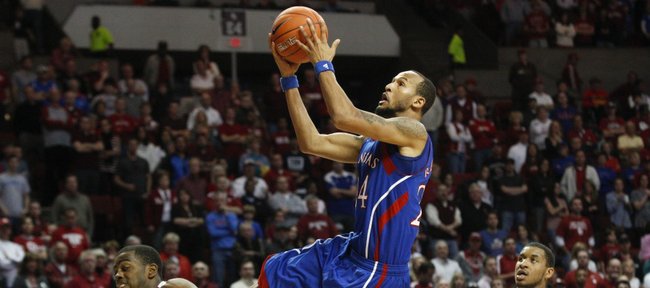 The challenge has been presented to top chefs in Zurich and Paris: Cook something indescribably delicious Aug. 6-14, when Kansas University's basketball players and coaches are in town — dishes to placate the palate of senior forward Travis Releford.
"I have been overseas a few times, and I think experiencing the different foods they have over there ... it's always one of the things that stands out," said Releford, a 6-foot-6, 210-pounder out of Kansas City, Mo., who has traveled extensively in his 22 years on the planet.
He trekked to Canada over 2008 Labor Day weekend as a member of KU's basketball team and also toured Argentina and China during his days at Roeland Park's Bishop Miege High.
"I can't say I've had anything good that's not American overseas," Releford said of the grub. "I don't have a favorite food here. I eat everything."
Releford is experiencing one of the benefits of taking a fifth year: getting to embark on a second foreign tour as a KU player. NCAA rules allow teams to leave the U.S. once every four years. Prior to his true freshman season, Releford averaged a team-leading 14.3 points a game (in four games) in Canada, including a 25-point outing against Carleton University.
"My freshman year, I went to Canada, and that was a fun experience. This year, we've got the new guys coming in, and I think it's going to be a great experience for them and our team to be able to play together and get a feel for each other out on the court," Releford said.
KU has eight incoming freshmen (Anrio Adams, Milt Doyle, Perry Ellis, Landen Lucas, Zach Peters, Andrew White, Evan Manning, Tyler Self) to go with red-shirt freshmen Ben McLemore and Jamari Traylor).
"It's a good opportunity to get to know each other, being able to get a feel for how each other plays and put that together when we are all out on the court," Releford said. "Having this opportunity is going to be great us, for our team, for our coaches and for everybody that's involved."
The Jayhawks, who leave Sunday but won't arrive in Zurich until Monday morning (the clock is seven hours ahead of Lawrence time), today will hold their 10th and final pre-tour practice in accordance with NCAA rules. KU will play a pair of exhibition games against the Swiss National Team Tuesday and Wednesday in Fribourg, Switzerland, and versus two pro teams a week from today and Sunday in Paris.
Releford has been impressive thus far at workouts.
"Trav is rock-solid," KU coach Bill Self said.
KU senior Jeff Withey has declined an invitation to attend this weekend's Adidas Nations event in California. He is practicing with KU's team while gearing for Sunday's travel day to Zurich.