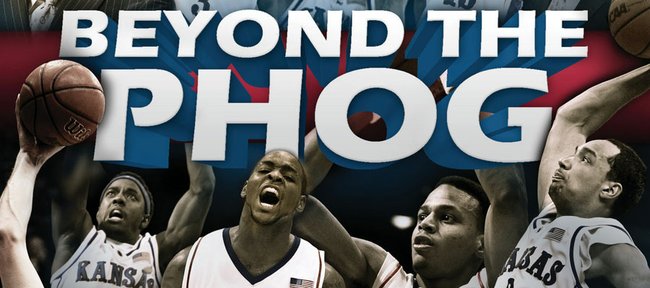 The following is an excerpt from "Beyond the Phog - Untold Stories from Kansas Basketball's Most Dominant Decade." Compiled by Jason King of Yahoo! Sports and Lawrence Journal-World sportswriter Jesse Newell, the 400-page book includes interviews with 40 players and coaches from the most successful era in Jayhawks history. "Beyond the Phog" will be available in stores Sept. 30. KUSports.com will run excerpts from the book throughout the next few weeks.
In Mario Chalmers' words ...
A LITTLE PAYBACK
People like to talk about the North Carolina and Memphis games, but one of the biggest wins for us during the NCAA Tournament was against Villanova.
That game was personal, because Jay Wright – the Villanova coach – had also been the head coach of the USA Basketball team that represented the country in the Pan Am games the previous summer. Jay Wright cut both Sherron and me from that team and kept his own player from Villanova, Scottie Reynolds, who had clearly been the worst player at the entire camp. He led the whole camp in turnovers. Sherron didn't play all that well, either, because his knee hadn't recovered from the previous season. But for me, I felt like I did everything right. I led them in steals, I had a lot of assists and I barely had any turnovers. But I wasn't shooting the ball very much. They used one of those international balls, so they were different. I didn't like the ball. I shot maybe six times.
When they cut me, they told me it was because I didn't score and that they wanted a scoring point guard. I was like, "Why do y'all need all these scorers? What do you need a scoring point guard for when you've got all these other scorers?" They had Alonzo Gee from Alabama and guys that could already score. I was just trying to get other players involved. When they cut me, I was hurt. I was like, "Oh, you wanted me to score and you didn't tell me that?" They had told Coach Self they just wanted a guy to distribute the ball, but Jay Wright cut me and kept his own player.
So when it came to the Villanova game, Coach Self called Sherron and me into his office and said, "How do you feel about this Villanova game?" I said, "Coach, this is personal to me. I don't like Jay Wright." He was like, "I understand that, but keep it out of the media." So when the media asked if it was a personal game, we'd say, "No, it's not personal. It's just another game." But during the game we were talking all kinds of s--t to Jay Wright. We'd run by him and tell him, "Sit your ass down! We got this!" Another time we said to him, "This is what you get for cutting us. We're about to dog you!" Anytime we were throwing the ball in from the sideline, when he was standing up trying to call a play, we'd tell him to shut his mouth and sit down. There was one play where I threw a lob to Shady on an inbounds pass and he dunked over Scottie Reynolds. Right before I threw it I looked at Jay Wright and said, "Watch this!" That game was definitely personal for Sherron and me.