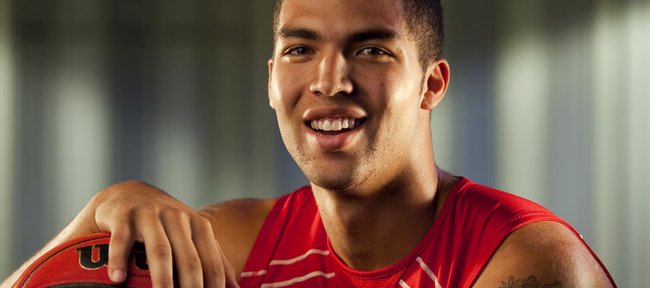 Braeden Anderson, a 6-foot-8 power forward from Okotoks, Alberta, Canada, who originally planned to play basketball at Kansas University, on Friday announced plans to attend Fresno State.
Anderson was deemed an NCAA partial qualifier at KU in September, but was not approved for aid by the Big 12 Conference, which made him ineligible for participation at KU. The Mountain West Conference, of which Fresno State is a member, accepts partial qualifiers and is allowed to provide aid. Thus, Anderson will attend classes at the Fresno, Calif., school second semester and be eligible to play in games next season.
"I did not want to commit to two years at a junior college," said Anderson, who would have needed a juco degree to qualify for a two-year career at KU. "Fresno is a really good fit for me. I really like the coaches there. I'm a West Coast kid at heart. I have a ton of family in California — a lot of cousins."
Of course, he's depressed that he's unable to play at his first choice, KU.
"My ultimate goal is the NBA. Before that, my ultimate goal was to make a high-major Div. I school. In my mind, I made it there," Anderson said of attaining an offer at powerhouse KU. "Kansas is where I wanted to go. I would have picked Kansas over any school in the country. I love all the people there. My heart will always be in Kansas. I'll always have a really soft spot for Lawrence and the people there."
Anderson will live with relatives and train in California until reporting to Fresno State second semester.
"I am working out every day and preparing," Anderson said. "I want to wish the Jayhawks the best of luck this year. I'll be cheering for them. Those (players) are my brothers. I want to thank the people at KU who are pulling for me," added Anderson, who has received support on Facebook. "If I had my way, I'd be a Jayhawk. I want to make it clear I'm a Jayhawk at heart. It didn't work out that I was able to go there. I start school with a 4.0 grade-point average thanks to the work I did in classes at KU (during summer). I think the people at KU know what I can do academically, and it will be the same at Fresno."
Anderson, who first attended high school in Canada, said his status as a partial qualifier stemmed from re-doing his junior year at Christian Faith Center in North Carolina. He said that marked his fourth year of high school by NCAA standards, and the NCAA did not recognize his work at the school. He next transferred to Wilbraham and Monson Academy in Massachusetts. After leaving that school last February, Anderson took online courses back home in Canada.