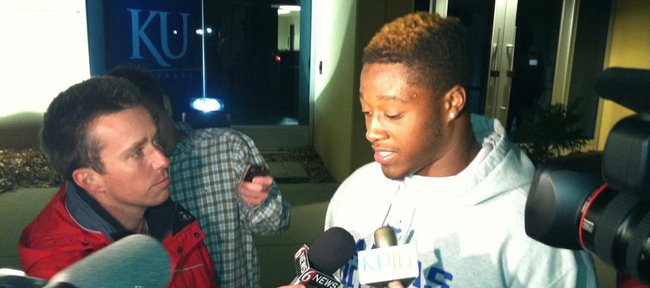 Kansas junior linebacker Toben Opurum — like many of his teammates — emerged from his final meeting with Turner Gill wishing he could have done more.
After getting fired on Sunday afternoon, Gill met with his players — individually or in groups of two —at the Anderson Family Football Complex on Sunday night.
"I think him being fired really speaks more so on how poorly we played as players than it does on his ability to coach us," Opurum said. "That hurts me, that I wasn't able to be good enough to allow a man to keep his job."
Opurum knows the process that's about to come because he has been through it before.
Following Opurum's freshman season at KU, coach Mark Mangino resigned at the end of the season.
"I think people don't realize how much a decision like this is going to hurt us as a team and as a university," Opurum said. "It's going to be a whole other rebuilding process that we were already in the process of doing. So it's kind of like we've got to start all over again."
KU junior cornerback Greg Brown also will be playing for his third coach at KU next season.
"It's just an unfair decision, but it was a business decision," Brown said. "I just felt bad that I couldn't do my part for him to keep his job here."
KU receiver Kale Pick learned of Gill's firing Sunday when he was texted by teammate Jordan Webb while eating dinner.
The Dodge City native was surprised by the news. He said Gill will be invited to his wedding one day.
"I'm really fortunate that I got to meet him and play for him," Pick said. "And I'm going to be glad that I have a long relationship with him for the rest of my life."
Outgoing seniors also met with Gill on Sunday night and shared their disappointment about his firing.
"I know that wherever he ends up next, people will be truly blessed to have him there on his staff, because he's a great coach, a great man," senior tight end A.J. Steward said. "Guys like that never falter. This is just a minor setback for him."
Senior linebacker Steven Johnson credited Gill with helping him break out of his shell to become more of a leader.
"It's just hard, because I don't really feel as though he had a fair shot," Johnson said. "Me personally, I know I believe in my heart that I don't feel like there's any other coach that could do both sides (coaching and relationships) as well as he did."