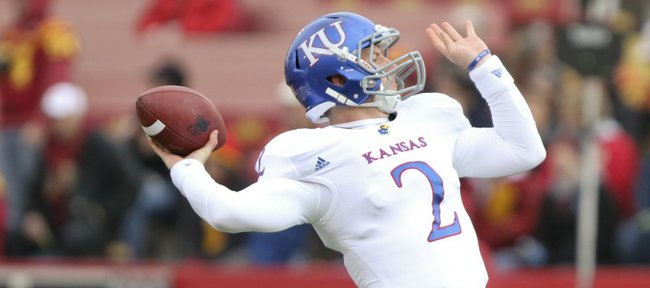 With so much and, yet, nothing at all at stake during this weekend's Border War battle between the Kansas University and Missouri football teams, it would be easy to expect the match-up to feature a wide range of wild and crazy plays from both sides.
That won't be the case for Kansas University, according to KU coach Turner Gill, who said earlier this week that the Jayhawks (2-9 overall, 0-8 Big 12) would take the same approach to Saturday's contest as they had taken to the other 11 games that came before it. No gimmick offense. No forced trick plays. Heck, not even an extra shot of adrenaline from wearing a new uniform or helmet.
"We are going to do what we need to do to give us the best chance to win the game," Gill said. "Every game we have 'special plays,' if you want to call it that. If you decide to run them, you run them. If you don't, you don't. But we are going to do whatever gives us the best chance to win. The bottom line is execution."
With six wins already, Missouri (6-5, 4-4) basically has assured itself of a bowl invitation in the coming weeks. Because of that, getting win No. 7 won't do much for the Tigers' postseason prospects. What it would do, however, is give MU the kind of bragging rights that might be tough for Kansas to get back. Most years, they talk about this game being for a year's worth of bragging rights. On Saturday, the outcome could last a lifetime.
No matter where you look, the all-time series between these two programs is as close as it can get. KU and the NCAA have the Border War series deadlocked at 55-55-9. The Tigers claim a 56-54-9 advantage because KU's 23-7 victory in 1960 over then-top-ranked MU included ineligible players and was later forfeited.
With the Tigers leaving the Big 12 for the SEC and the future of the rivalry in serious jeopardy, Saturday's game has a winner-take-all feel to it.
"It adds to the magnitude of the game," sophomore quarterback Jordan Webb said. "We know it's for all the marbles and bragging rights for however many years to come. We're definitely going to take it to heart and come out and play inspired on Saturday."
If it is, in fact, the final game in series history, Gill admitted a bit of added significance.
"I think it is going to be a game that is well remembered, just because of that," Gill said. "As a legacy, people are always going to talk about the last game played, so I think that is what brings about a little more significance to this game. It is the last opportunity to play in this type of situation, so it is very, very meaningful and is definitely going to leave a good legacy with whoever wins this football game."
It also has significance for this year's team, which has lost eight straight after starting the season 2-0.
"This is pretty much our championship," KU red-shirt freshman tight end Jimmay Mundine said. "We don't have a bowl game to go to, so this weekend is our championship game."
Ticket sales slow going
As of Wednesday afternoon, ticket sales the Border War were moving slowly on the Kansas side of the state line.
According to KU associate athletic director Jim Marchiony, Arrowhead Stadium officials said that 47,000 tickets had been sold for the KU-MU game. Arrowhead's capacity is listed around 76,400.
The majority of those sales seem to be going to Mizzou fans. Sources have said that only about 7,000 tickets have been sold to KU supporters, and one report indicated that KU had sold only around 250 of its allotment of 4,000 student tickets.
New KU billboards in KC
KU's attempt to claim Kansas City as a Jayhawk town in the wake of Missouri's upcoming departure from the Big 12 appears to be in full swing.
The KU marketing department has scooped up 10 billboard spaces throughout Kansas City, with the message "We are KANSAS City" the focal point of each.
The ads include three football boards, which feature a photo of Todd Reesing's touchdown pass to Kerry Meier that beat Mizzou in 2008; three Big 12 champion men's basketball boards, which feature a photo of the Jayhawks hoisting Big 12 signs after winning a recent Big 12 tournament title at Sprint Center; two 1988 national championship boards, which feature a photo of Danny Manning, Chris Piper and Milt Newton celebrating their '88 title on the Kemper Arena floor; and two digital boards.
Johnson up for Burlsworth Trophy
KU linebacker Steven Johnson has been named a semifinalist for the 2011 Burlsworth Trophy, which honors the top player in college football who began his career as a walk-on.
Johnson is one of 10 finalists for the award, which will be announced on Dec. 9 at a banquet in Springdale, Ark. The senior who hails from Media, Pa., leads the Jayhawks and Big 12 Conference in tackles, with 83 in conference play, and ranks 16th nationally, with 110 total.
Fans can vote for Johnson by visiting: http://burlsworthtrophy.com/
Mecham honored by Big 12
Back-up quarterback Quinn Mecham, a senior from Provo, Utah, was one of 10 Big 12 athletes named a Community of Champions honoree Wednesday.
Mecham, who was named Academic All-Big 12 earlier this fall, has been active in Student Athlete Advisory Committee and regularly participates in community-service opportunities through Big Brothers Big Sisters, a local shelter and Special Olympics. Mecham is one of five football players to earn the honor, which is given annually to athletes who excel in areas of academics, community service and sportsmanship.
Laptad joins Bears full-time
Former KU defensive end Jake Laptad, a 2010 KU graduate and three-time honorable mention All-Big 12 honoree, has been signed to the 53-man roster of the Chicago Bears as a long snapper.
Laptad was invited to the Bears' training camp last summer and, after being cut, was welcomed back as a part of the team's practice squad a few weeks ago.
Laptad, originally from Tulsa, Okla., ranks second on KU's all-time sacks list, with 21. He played at Kansas from 2007-10.