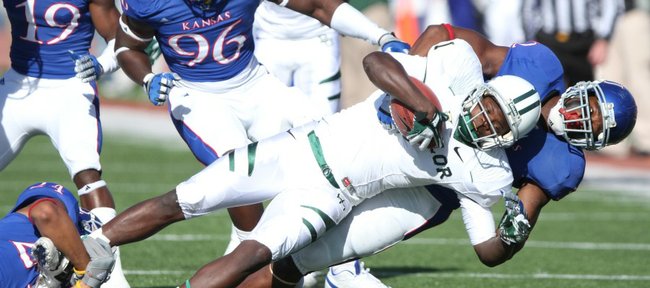 With Kansas University's football team losing eight straight since starting the season 2-0, finding tangible evidence of improvement has been difficult.
However, in the past few games, the Jayhawks have shown growth in the area of creating turnovers.
After forcing just one turnover in the first five games, KU has recorded nine turnovers in the past three games and 12 in the past five.
"I think if you go back and look at us from Oklahoma on, I think we have made more plays defensively," defensive coordinator Vic Shealy said. "And I think you're seeing more what you would call defensive ball plays, which gives you a chance to get turnovers and get off the field on third down."
Junior safety Bradley McDougald (two takeaways, three pass break-ups and 32 tackles in the past three games) has done a lot of the heavy lifting for the KU defense in the turnover department, but he went the unselfish route when asked about his contribution.

"It gives our offense more momentum," McDougald said. "It can totally swing the momentum of the game. Even if we don't score, we take away clock so it's a win-win situation for our defense."
Gill said Tuesday he thought the encouragement to look past the yardage totals and hone in on takeaways helped turn things around.
"As I told them, the offense is going to move the football in the Big 12 Conference, but we have to find a way to create turnovers," Gill said. "When you create turnovers, your players, both offensively and defensively, get excited. They're going to run around with more enthusiasm when you cause some fumbles and get interceptions. It brings some energy to your football team."
Defense shifting back to 4-3?
A lot was made this offseason about the KU defense switching to a 3-4 set in order to get more speed and linebackers on the field. Now it seems as if the Jayhawks have shifted back to the 4-3 look that employs four defensive linemen and three linebackers.
"Yeah, we've been in the 4-3 the majority of the time now," senior defensive tackle Patrick Dorsey said.
Asked why he thought the team had made the change, Dorsey spoke about winning the war in the trenches.
"For me, it's just about protecting the line of scrimmage," he said. "The 4-3 lets us protect the line of scrimmage more and shed blocks and make plays."
KU's official depth chart still lists three linemen and four linebackers, although junior Toben Opurum's "Buck" position is more of a hybrid between the two positions.
Kicking game up in the air
Asked Tuesday if the Jayhawks would stick with the plan of having sophomore kicker Ron Doherty handle field goals and freshman kicker Alex Mueller handle extra points, Gill was noncommittal.

"We'll talk more about it (Tuesday night)," Gill said. "Coach (Aaron) Stamn and I usually get together on Tuesday nights and kind of see where we are at with those things. It could be the same as last week, with Mueller handling PATs and Doherty with field goals, or Ron could handle both."
Berglund update
At Tuesday's meeting with the media, offensive coordinator Chuck Long was asked about the status of Brock Berglund, the Class of 2011 quarterback from Highlands Ranch, Colo., who was expected to join the Jayhawks last spring but had his plans derailed because of legal troubles.
Long said Berglund, 6-foot-4, 205 pounds, was still a member of the team.
"We're anticipating that he's gonna be here in the spring," Long said. "Let's get him through the school part first. We stay in touch, and he stays in touch with his academic advisers. That's been the big focus right now."
A July statement released by Berglund's attorneys said the dual-threat QB would stand trial Dec. 13-14 in Colorado for misdemeanor assault charges. Berglund has adamantly denied that he committed the assault.