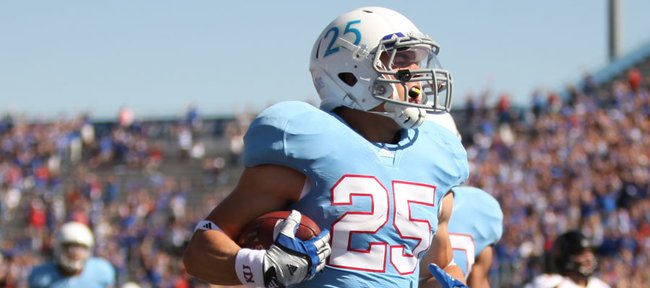 Kansas University football coach Turner Gill said after Wednesday's practice that red-shirt freshman running back Brandon Bourbon would miss the rest of the season because of a leg injury.
Gill said Bourbon, who rushed for 25 yards on back-to-back carries in last week's loss at Iowa State, suffered the injury against the Cyclones. Team doctors determined this week that the best thing for Bourbon would be to shut it down for the season and look toward next year.
"He's disappointed," Gill said. "I've been on that side of it, but we all have to look out for what's best for him."
In eight games this season, Bourbon gained 190 yards on 28 carries and scored one touchdown, a 51-yard run against Texas Tech.
The yardage totals rank him fourth on the team, which, thanks to the presence of James Sims, Darrian Miller and Tony Pierson, should be able to handle the loss of a running back. Still, Bourbon's backfield mates said they'd miss having him available.
"We gotta work with what we have," said Miller, a freshman who ranks second on the team with 396 yards and four TDs in 101 carries. "But at the same time, it does take a piece away from the puzzle, and it's going to be hard playing without him."
After red-shirting in 2010, Bourbon, 6-foot-1, 208 pounds, from Potosi, Mo., missed most of spring drills this season because of injury.