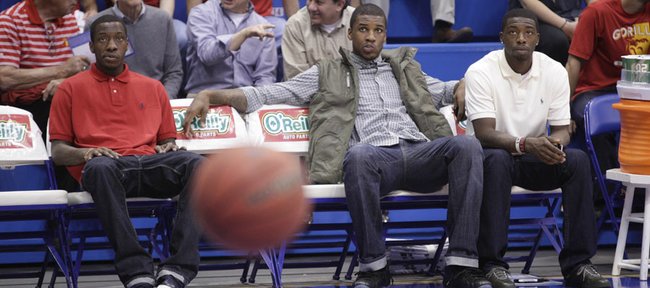 Thomas Robinson didn't feel comfortable wearing a shirt, vest and jeans — in lieu of his Kansas University jersey No. 0 — to Tuesday's exhibition basketball game against Pittsburg State.
"It definitely was hard for me to watch. I can't go in a gym without playing," said Robinson, relegated to cheerleading duty in casual attire because of a hyperextended left knee.
"I was more on my feet for the first half of the game than me being mad about not playing," added the 6-foot-10, 237-pound junior power forward, who had a lot to applaud in the second half of KU's 84-55 victory.
Still not 100 percent, Robinson nonetheless will be available for duty in exhibition game No. 2, today's 7 p.m. home contest against Fort Hays State.
"I could have played last week. I practiced two days after it happened. I just didn't feel it was right to play. It was bruised. I didn't feel it was smart to rush it," said Robinson.
He was injured at practice on Oct. 27, when he ran into teammate Travis Releford while retrieving a cross-court pass in a scrimmage situation.
Robinson at first feared the injury was serious.
"It was scary, real scary. It was more of a panic attack on my part more than anything else," Robinson said. "Two seconds after, I started panicking. If I hear anything make a noise (in knee), I'm going to panic, but I'm all right. It was my first scare here, hopefully the last one."
KU coach Bill Self said Robinson has been practicing, thus is able to play during the game.
"He's probably 90 percent. He's wearing a brace, and the training staff says that he should be OK," Self said. "We're probably going to keep him in the brace a little bit longer. I think he needs to get out there. He needs the reps, too. He needs to see the ball go in the hole.
"It'll be nice to have Thomas in there so we can kind of see how things are going to play out with having our best presence in there."
KU junior center Jeff Withey hasn't missed any practice time since suffering a left ankle sprain in the first half of the Pitt State game — the exhibition in which he had a triple-double (18 points, 12 rebounds and 10 blocks)
"I've been getting a lot of treatment. Our training staff has gotten it down a lot from what it was. It's black and blue now, but I'm practicing. There are no excuses," Withey said.
He's elated that Robinson will join him in the frontcourt tonight.
"We've got one of our best rebounders back. Things will go smoother, I feel, with Thomas back," Withey said. "They (opponents) will be looking at him, probably double-teaming him. It will be easier for me to get offensive rebounds. They'll be focused on boxing him out. Maybe I can slip in there and get extra rebounds. It will make my job easier with him back."
Robinson also likes the idea of a 7-footer patrolling the paint.
"I'm going to need him more than anything this year so he can take the load off me," Robinson said of Withey. "Justin (Wesley) and Kevin (Young) are going to need to come in and give us good minutes. Really, no one can afford to slack off, so I expect their best every night."
Guards Tyshawn Taylor and Elijah Johnson, who are serving two-game suspensions, will miss the game, meaning freshman Naadir Tharpe could play 30-plus minutes again.
Tharpe had eight assists and nine turnovers to go with 12 points in his KU debut.
"Definitely my turnovers I need to improve on and being much more of a general out there, talking much more on court," Tharpe said. "Even though I'm a freshman, with Tyshawn and Elijah not being able to play, I need to step up to the plate. I'm going to have to be able to lead the team much better than I did in the first game."
KU coach Self is seeking continued progress.
"I'd like to see our newcomers maybe play less tight," he said. "Naadir (Tharpe) was tight the other day, Justin (Wesley) was tight, and Kevin (Young) was tight. I'd like to see those guys maybe play a little looser so we can see what they can do. I just want to see total improvement. I don't think anybody played that well the other day. Statistically we were fine, other than turnovers (23). We need to do a much better job."
KU will open for real on Friday against Towson. Tipoff for that game is also 7 p.m. in Allen Fieldhouse.