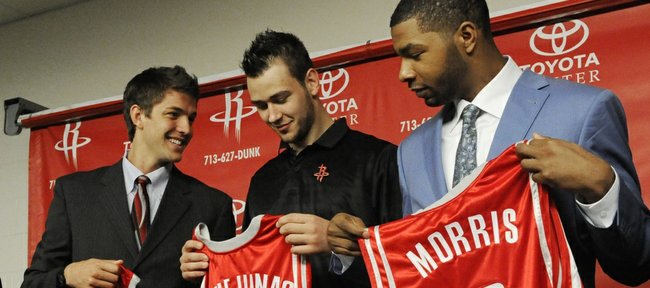 Houston — The Houston Rockets hired a Hall of Fame power forward to coach the team, then added more big men to play for him during Thursday night's NBA Draft.
Houston drafted Kansas star Marcus Morris and Florida standout Chandler Parsons, and added 7-foot Lithuanian Donatas Motiejunas in a deal with Minnesota that also brought point guard Jonny Flynn to the Rockets. Houston dealt backup center Brad Miller to Minnesota.
It was fitting that Houston would swing a deal with the Timberwolves after hiring Kevin McHale to replace Rick Adelman. McHale was the former vice president of basketball operations in Minnesota and also had two stints as the team's coach.
"Kevin just wanted people taller than him," general manager Daryl Morey joked.
But the Rockets did seem to be looking for size with Yao Ming's status in doubt. The top overall pick in 2002, the 7-foot-6 Yao is an unrestricted free agent and has been plagued with foot and leg injuries in recent years. He's played in only five games in the past two seasons.
Morey said the Rockets will wait to see how Yao recovers from a stress fracture in his left ankle before the franchise makes any decisions about his future. And Morey said Yao's situation had little bearing on the team's moves.
"We went with who we thought was the best guy there each time," Morey said. "We're a team trying to re-establish our foundation. We don't feel like we can look at our roster and pick a player for a certain place. We just thought those were the best players we could get at that time."
The 6-foot-9 Morris was drafted immediately after his twin older brother, Markieff, was taken by Phoenix at No. 13. Marcus Morris was named the Big 12 player of the year after averaging 17.2 points and 7.6 rebounds in 38 games for the Jayhawks in the 2010-11 season.
"I bring a lot of toughness to the game, a lot of energy," Morris said. "I feel that my presence is felt wherever I play. I'm a scorer and I can defend a lot of positions."
The Timberwolves selected the 7-foot Motiejunas with the 20th pick, setting the trade in motion.
Motiejunas is playing his second season with the Italian club Benetton Treviso, and has averaged 13.1 points, 4.4 rebounds and two steals in 30 regular-season games.
Morey said he and McHale were impressed by Motiejunas' low-post skills.
"He's been a top player in Europe, really high upside, really mobile," Morey said. "He has a perimeter offensive game as well, and he can really move his feet on the defensive end."
The Rockets used the 23rd overall pick on Nikola Mirotic, a forward from Montenegro. Mirotic is in his first season with Real Madrid.
Houston initially sent the 38th overall pick to Minnesota, then bought it back to take the 6-9 Parsons, another forward. Morey hopes that Parsons blossoms like Chase Budinger, a second-round pick in 2009. Budinger averaged 9.8 points and 3.6 rebounds in 78 games last season.
"He (Chase) proved that he was better than other players on our team, other draft picks we took that year," Morey said. "Chandler is another guy we got for a very good price, and someone who can potentially win minutes over time."
The Rockets were glad to find a taker for Miller, who is due to make almost $10 million over the next two seasons. But the additions of Morris, Motiejunas and Parsons crowd the roster at the forward position, leaving McHale and Morey to make some decisions before the season begins.
Chuck Hayes, also a free agent, has played in 156 of 164 games over the past two seasons and Luis Scola has been a regular starter for the bulk of the last four years. Houston also drafted Patrick Patterson with the 14th pick last season, and picked up Jordan Hill in a trade with New York in February 2010.
"We've challenged the roster a little bit, in terms of the total number of guys and the different positions," Morey said. "But we'd rather have the problem of too much talent, too many good players, than too little and we're just happy everything is balanced."
Morris shot 57 percent from the field and topping 20 points in 12 games for Kansas last season. Parsons averaged 11.3 points and 7.8 rebounds in 36 games for Florida.
The 235-pound Morris says he's open to slimming down and moving to a small forward spot, if that's what the Rockets need from him.
"I think I can just get in there and fit wherever they want me to play," Morris said.