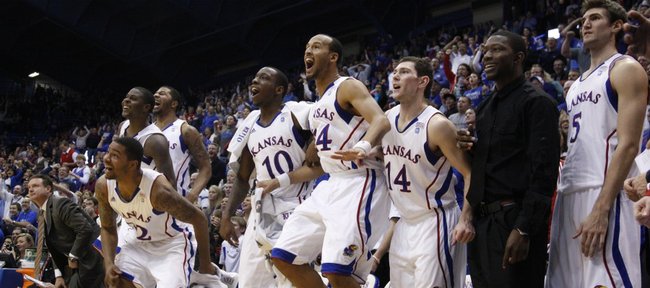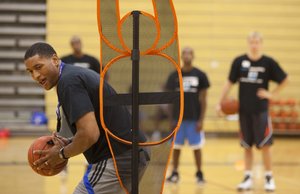 Kansas University's men's basketball team, which will compete in the 2011 Maui Invitational, has scheduled appearances in early-season tournaments through 2014.
In 2012, KU is slated to play in the 76 Classic, an eight-team event set for Thursday, Friday and Sunday of Thanksgiving week at the Convention Center in Anaheim, Calif., which is located adjacent to Disneyland.
In 2013, KU is slated to play in the eight-team Battle 4 Atlantis tournament during Thanksgiving week in a 4,000-seat arena in the Atlantis Resort on Paradise Island, Bahamas.
In 2014, KU will compete in the College Basketball Experience tourney in Kansas City, Mo. The Jayhawks then would be tentatively scheduled to return to the Maui Invitational in 2015.
The 2011 Maui Invitational pairings are expected to be released soon, ESPN's Andy Katz reported Tuesday. Katz envisions KU playing Chaminade and UCLA meeting Memphis in one side of the bracket of the Nov. 21-23 event; Duke playing Tennessee and Georgetown playing Michigan on the other side.
Katz indicates Duke has a policy of not playing non Div. I teams in tournaments. Chaminade is in NCAA Div. II. Also, Memphis and Tennessee do not wish to play because the schools meet in the regular season.
"No one would deny that a possible Duke-Kansas final helps the overall health of the tournament and would rate well," Katz wrote Tuesday. "But KU would have to possibly get by Conference USA-favorite Memphis and that's with the assumption that Duke can beat Michigan if the two were to meet in the semifinals. The Blue Devils defeated the Wolverines by just two in last season's NCAA tournament."
KU senior associate athletic director Larry Keating said KU had not discussed possible matchups with Maui Invitational officials.
"It's up to them," Keating said.
The Jayhawks also are eligible to take part in a foreign tour prior to the 2012-13 season. If KU decides to take part in a tour, the destination may remain Canada, where KU has traveled twice in an eight-year span. However, the dates would likely be in August, not over Labor Day weekend this time, because teams cannot miss school to play in these exhibition games. On the last two trips, KU departed on Friday, a school day, and returned late Monday.
"A lot of teams are going to Europe in May or Europe or Canada in August before school starts," Keating said. "Freshmen now can take part if they are enrolled in summer school. Generally a European trip is 10, 11 days. Canada became a popular place to go because you can play four games in three days (with doubleheader one day) in a relatively short trip."
Teams can practice 10 days on campus before leaving on the trip. Coaches generally regard the practices as more important than the exhibition games.
Simien camp: Former KU forward Wayne Simien is holding his fourth-annual Called To Greatness basketball camp this week at Free State High.
In all, 123 youths attended the first day of camp on Tuesday.
"We enjoy teaching these young men different basketball skills to help them be successful, but more important than that, we are teaching them what a true life of greatness really means," Simien said. "It doesn't have anything to do with their athletic ability or individual accomplishments but of being a son of God and following Jesus Christ and serving other people. That's the message we share with these guys to be intertwined with the game of basketball. We have a great response from the parents and players both. We're excited to keep the program going."
Poker face: Former KU forward Paul Pierce of the Boston Celtics was eliminated Monday on day 2A of the World Series of Poker's Main Event in Las Vegas. In all, 6,865 players entered the Main Event, with 4,521 players qualifying for the two second-day rounds.
"I had a great time," Pierce told the Las Vegas Review-Journal. "I'll definitely be back next year."
Pierce, who paid $10,000 buy-in for the No Limit Hold-em event, has participated in several World Series of Poker events this year.