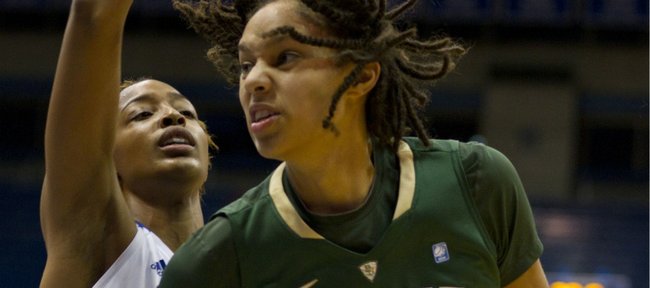 Document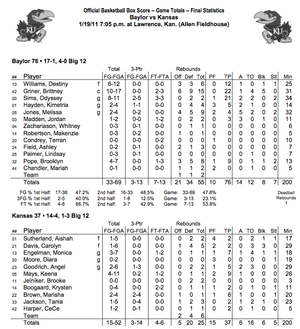 KU vs. Baylor
Knocking off No. 1 Baylor — even without Brittney Griner — would have been a tough order for the Kansas University women's basketball team.
Factor in Griner, the Bears' 6-foot-8, sophomore phenom, and the Jayhawks had little chance at all on Wednesday night, when they were flattened, 76-37, by the top-ranked Bears at Allen Fieldhouse.
"I don't think they came in here and left any doubt that they're the best team in America right now," coach Bonnie Henrickson said. "We didn't fight them much on that, unfortunately."
Featuring an array of low post moves, Griner scored at will in the paint and was an even bigger force on defense.
In 31 minutes, Griner racked up 22 points and 15 rebounds, blocked five shots and used her 88-inch wingspan to alter countless others.
"She's a once-in-a-lifetime kind of player," Baylor coach Kim Mulkey said.
As if Griner and her disruptive length weren't enough to deal with, the Jayhawks faced a size disadvantage at every other position as well, making for a rough night at both ends of the floor.
Going up against the Big 12's stingiest defensive unit, the Jayhawks found little rhythm on offense.

Mere minutes after the opening tip, the Bears (17-1 overall, 4-0 Big 12) surged to an 11-0 run. KU couldn't come up with an answer until a layup at the 15:31 mark by Carolyn Davis.
"I thought we looked dazed," Henrickson said. "I was shocked that we didn't have more fire and more toughness. I was shocked."
The Jayhawks trailed 40-14 at the half after shooting shoot only 20.8 percent and getting outrebounded, 30-10.
For the game, KU was outrebounded, 55-25, and relented 21 offensive rebounds to Baylor, six courtesy of Griner.
With Griner anchored in the paint, Davis — KU's leading scorer and the Big 12 leader in field-goal percentage — was never a factor and finished with only two points.
"There's a lot of post players that average 21 points a night," Henrickson said. "But there isn't a post in America that dictates that much on defense and limits what you can run and where you can go with the ball."
In the face of the Baylor's perimeter defense, led by the on-ball pressure of Odyessy Sims, no one for KU could muster much.
Freshman Keena Mays' nine points led the Jayhawks, who shot a season-low 28.8 percent and committed 16 turnovers.
"They're good enough to turn you over, and they can gamble in passing lanes and be overly aggressive because they're sending you into (Griner)," Henrickson said.
And aside from worrying about defending Griner, the Jayhawks struggled to contain Baylor's assortment of wing players, Sims in particular.
Sims, the Bears' freshman point guard, used her combination of size and quickness to torch the Kansas backcourt for 21 points.
"Overall, the word was frustration," junior forward Aishah Sutherland said.
KU will look to end its two-game skid Sunday when it plays host to No. 14 Oklahoma at noon.