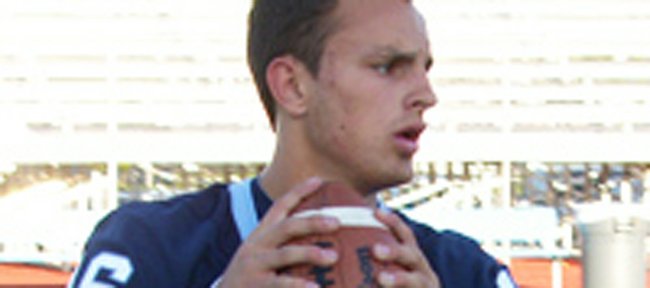 Three months away from the start of spring football practices, the Kansas University quarterback position became a little more crowded Tuesday, as the Jayhawks received a signed financial-aid agreement from Highlands Ranch, Colo., QB Brock Berglund.
Berglund, a three-star prospect from Valor Christian High, is ranked as the 13th-best dual-threat quarterback in the country. He'll sign a national letter of intent in February and already is one of the prize gems of KU coach Turner Gill's second recruiting class.
Though the depth of Berglund's impact on KU remains to be seen, the 6-foot-4, 215-pound quarterback has received high praise from his new coach.
"Brock is the ideal student-athlete we want in our program," Gill said Tuesday. "He has proven that he is a winner. He not only has great football skills, but he possesses great vision and tremendous leadership abilities."
Berglund plans to arrive in Lawrence on Jan. 19 and will begin classes Jan. 21. Doing so will allow him to participate in spring drills, where he'll compete with a handful of KU quarterbacks — including 2010 starters Jordan Webb and Quinn Mecham — for the right to lead the Jayhawks on the field this fall.
Though Berglund will be the most inexperienced member of KU's crop of QBs, he has a couple of advantages that most incoming freshmen would not. For starters, his physical measurements place him at the top of the list, as he's the tallest and most solid QB in the bunch. Beyond that, his high school ran a version of KU's offense, something Valor Christian took from KU offensive coordinator Chuck Long's days as an assistant at Oklahoma.
"Talking to coach Long, we can already have a conversation about the Kansas offense," Berglund said. "It is like learning a whole new language, but it's just putting a name with a name instead of learning a whole new scheme."
Berglund expanded by saying an offensive set known as Bulldog by his high school team may be called Pit Bull at KU.
"Exactly," Berglund said. "Bulldog is Pit Bull. That's it. It's studying vocabulary for your English test. It's not that much different."
Berglund said he would love to be KU's starting QB next season but emphasized that he'll compete as hard as he can and trust that things will work out the way they're supposed to.
"I believe in my abilities and what God has blessed me with," he said. "If I'm the first-string guy then I'm the first-string guy. If I'm a back-up, I'm a back-up. Wherever I land is where I land. But I'm gonna put everything out there, I'm gonna give it all I have."
As for when next season's starting quarterback might be revealed, Gill said in November that he would aim to settle the QB situation sooner than he did in 2010.
"I would hope so," Gill said. "Again, you gotta go with what you see and make the best decision you can. I know that we'll have great competition again and we want a guy that can rise up and raise the level of play of the offense and, hopefully, our whole football team."