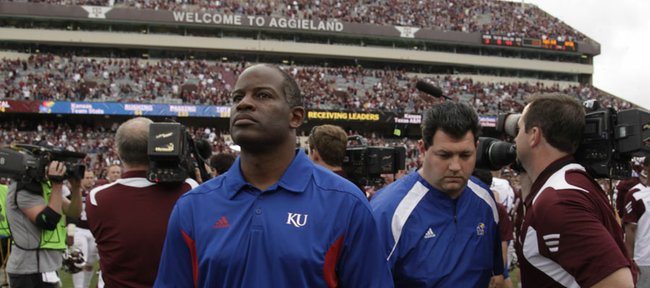 Former Kansas coach Turner Gill has been hired as the eighth coach at Liberty University — an FCS school in Lynchburg, Va.
Gill will be introduced as coach at a news conference on Thursday afternoon.
"As we conducted this search during the past nine days, his name was recommended to us over and over from coaches and athletics directors from around the country as the right man to lead our football program," Liberty athletic director Jeff Barber said. "Turner embraces all that Liberty is and stands for and it will be a privilege to work alongside him as we continue to move our football program forward."
Gill, who was fired by KU on Nov. 27, posted a 5-19 record in two seasons with the Jayhawks.
Liberty's website describes the school as "the largest private non-profit university in the nation, the largest university in Virginia, and the largest Christian university in the world."
"Every indication is that (Gill) is a perfect fit for Liberty University," LU chancellor and president Jerry Falwell, Jr. said. "His experience is at the level where we would like to take our football program. His Christian faith is strong and sincere and what any new recruit would expect to see in a Liberty University head football coach. I think Liberty University and Turner Gill were made for each other."