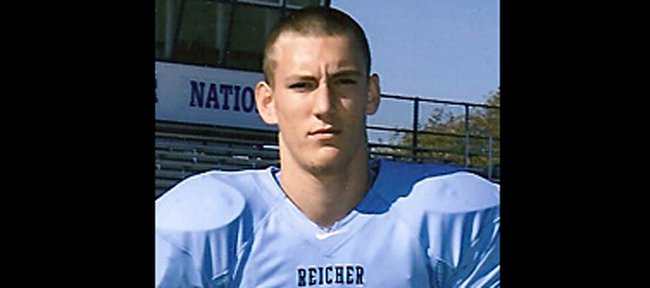 The Kansas University football staff continues to have recruiting success in Texas. That point is illustrated by Turner Gill and the Jayhawks recently picking up an oral commitment from three-star tight end Jordan Smith, of Waco's Reicher High.
According to JayhawkSlant.com, Smith, 6-foot-5, 225 pounds, was KU's top tight-end target in the Class of the 2012. He committed via telephone Wednesday night in an unusual way.
"I told them it was a soft verbal," Smith told the website. "That's only because I want to commit to them in person. I owe it to them as a sign of respect to tell them face-to-face. It's how I have been raised. Kansas is where I want to be, and I know they will make me a better player."
Regarded by many recruiting services as a freak athlete, Smith runs the 40-yard dash in the 4.7-second range and also has a 32-inch vertical jump.
At the time of his commitment, Smith held offers from Air Force, Cincinnati, Kansas and UTEP. However, his recruitment had picked up a lot recent weeks, with others such as Arkansas, Oklahoma State, Texas A&M; and Texas Tech showing more interest.
"I probably could have waited, and there would have been more offers," Smith said. "But the people make the place, and Kansas has the people."
Smith becomes KU's seventh commitment from the Class of 2012. All commitments are non-binding until signing day in February.
Jayhawks on TLN?
As reports surfaced Thursday that the University of Texas was planning to broadcast one Big 12 Conference game on the newly formed Longhorn Network this fall, Chip Brown, of Orangebloods.com, reported that a source told him the opponent for that game would be Kansas University on Oct. 29 or Kansas State on Nov. 19.
In order for the network to show one of UT's home, Big 12 games, it would have to be one that the networks elect not to show. Because KU and KSU don't have huge national appeal, both schools make sense. However, Jim Marchiony, KU's associate athletic director for communications, said nothing was in the works and that finances, broadcasting rights and a host of other details would factor in should KU ever become involved.
"At this point, it could be anybody," Marchiony said. "It could be any of their home games.
"The other schools involved in this are a long way from knowing what the deal is."
Intensity on the rise
Up to this point, the offseason work put in by the Kansas University football team has focused on players getting bigger, stronger and faster.
But as the days of fall camp tick away and the Jayhawks' season opener against McNeese State — 6 p.m., Sept. 3 at Memorial Stadium — creeps closer, a handful of players shared their view on how the excitement in camp has reached a new level.

"You can tell that our team has a little edge and the season's getting close," said junior wide receiver Kale Pick. "We're all aware that it's about that time."
With the new vibe comes an increase in intensity. Players lock in longer during drills and in scrimmages and the clowning around, which is encouraged under the "E, Enjoy the college football experience" part of the team's BELIEVE mantra, dwindles. What's more, in the coming days, the coaching staff will begin to install its gameplan for the first game.
"It doesn't feel like it's right around the corner, but we know it's right around the corner," sophomore cornerback Tyler Patmon said. "We're just trying to stay hungry because we know what our goals are. Once we get into that game week, it's gonna really hit us that it's time to go."
With just 16 days remaining until kickoff, the Jayhawks, who still have competitions going at several positions, have just a handful of practices and a scrimmage or two to get the final product whipped into shape.
Rah Rah Weekend
This weekend will provide fans of KU football a couple of different chances to meet the Jayhawks up close and personal. The first comes tonight, at Corinth Square in Prairie Village, where KU coach Turner Gill will join men's basketball coach Bill Self, athletic director Sheahon Zenger and chancellor Bernadette Gray-Little in addressing Jayhawk fans who gather in the parking lot at 83rd and Mission Road for the end-of-summer event that has become a tradition.
The rally will begin at 6 p.m. and will feature all kinds of KU giveaways and live music from the KC All Stars, who will entertain the crowd from 8-10. In addition, card-carrying members of the KU Alumni Association or the KU Medical Center Alumni Association in attendance will receive a number of deals, including a $5 coupon to Johnny's Tavern and a $5 coupon to BRGR Kitchen + Bar.
Saturday, KU will host its annual Family Fun Fest at Memorial Stadium. The action kicks off at 9:30 a.m., with the Fun Zone opening on the practice fields next to Memorial Stadium. That will be followed by an 11:30 a.m. scrimmage open to the public. Gates will open at 11. All fans in attendance will receive a free Jayhawk license plate, and the first 500 fans to show up will receive a free hot dog and popcorn. The scrimmage will be followed by an autograph session with KU players and coaches.